The Western countries also said in a joint statement that Russia and Iran should influence the Syrian leadership over the situation in Aleppo.
"We are ready to consider additional restrictive measures against individuals and entities that act for or on behalf of the Syrian regime," the statement distributed by the White House's press service said.
"We urge all parties in Syria to adhere to international humanitarian law, including the Geneva Conventions," it said.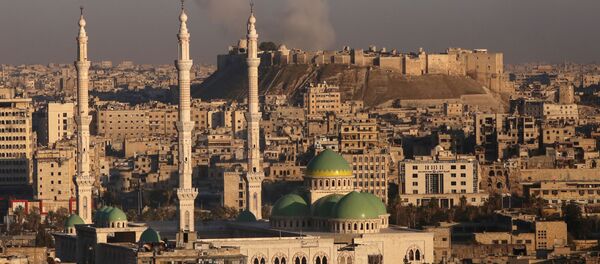 7 December 2016, 12:23 GMT
"UN SG Ban Ki-moon has spoken about war crimes being committed in Syria. There must not be impunity for those responsible. We call on the UN to investigate respective reports and gather evidence to hold the perpetrators of war crimes to account," the statement said.
Over the weekend, the Syrian army backed by local militia liberated a number of districts in eastern Aleppo and is leading the offensive further after militants refused to surrender and leave the city peacefully.
Aleppo became major battleground in Syria over recent months, engaging government forces, terrorists and numerous opposition groups. Eastern Aleppo is currently encircled by government troops, and the fighting has affected thousands of civilians still trapped in the city. Previous internationally mediated ceasefires have collapsed as militants continued attacks and opposition failed to expel jihadists from the city.