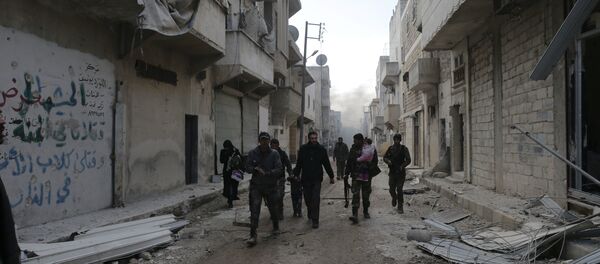 6 December 2016, 22:35 GMT
Over recent months, Aleppo became
major battleground
in Syria, engaging government forces, terrorists and numerous opposition groups. Eastern
Aleppo
is currently encircled by government troops, and the fighting has affected thousands of civilians still trapped in the city.
Previous internationally mediated ceasefires have collapsed as militants continued attacks and opposition failed to expel al-Nusra Front, which is now known as Jabhat Fatah al Sham, from the city.
The army began an advance operation to enter the Old City on Tuesday. According to the local media, the Syrian armed forces control more than 65% of the East Aleppo.
"The remnants of armed groups are completely knocked out of the old quarters of Aleppo. The enemy is defeated and flees to the southern districts, to the remained terrorist outposts"- the militia told RIA Novosti.