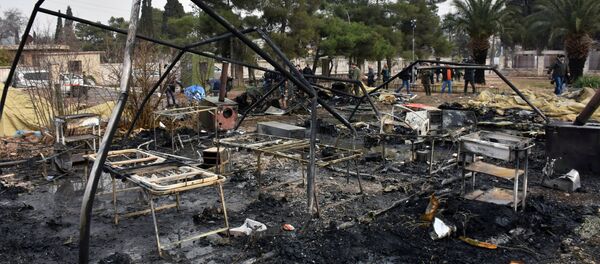 7 December 2016, 09:30 GMT
VLADIVOSTOK (Sputnik) — According to the source, the funerals will take place on Saturday.
"The aircraft with the bodies [of the medics] is departing from Moscow to Khabarovsk at 7 p.m. local time [16:00 GMT]. The bodies will be flown from Khabarovsk to Birobidzhan by a helicopter. So they will arrive at JAA only tomorrow," a source said.
On December 5, an artillery attack on a mobile Russian military hospital in Aleppo killed two Russian medics from Birobidzhan, Sgt. Maj. Nadezhda Durachenko and Staff Sgt. Galina Mikhailova. Professor Vadim Arsentyev from the Pediatric Faculty of the Kirov Military Medical Academy was seriously wounded. Local residents, arrived for medical examination, were injured during the artillery attack.
Sources at the Russian Defense Ministry regard the tragic incident as a premeditated assassination, blaming the so-called moderate opposition and its Western sponsors.