MOSCOW (Sputnik) — Earlier the Kommersant business daily cited a source close to investigators as saying that the Russian Defense Ministry's commission investigating the circumstances of the crash concedes that the incident could have occurred due to pilot error.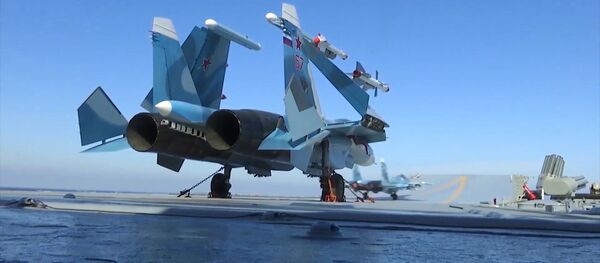 5 December 2016, 12:27 GMT
"The report by the Kommersant newspaper on allegedly 'preliminary' conclusions of the commission investigating the causes of the Su-33 fighter's crash is untrue. The commission continues its scrupulous work and has made no 'preliminary' conclusions before the end of its probe," the Defense Ministry said.
The Russian ministry reported Monday that a Su-33 fighter rolled off the deck of the Admiral Kuznetsov aircraft carrier during landing after fulfilling a combat task in Syria, adding that the pilot ejected, was picked up by a rescue team and that his health was out of danger.