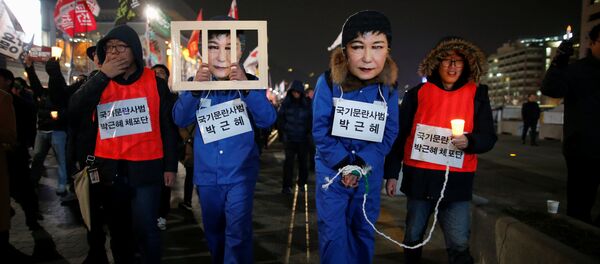 1 December 2016, 07:30 GMT
In this historic ballot, 234 MPs voted in favor of the impeachment, 56 voted against it in the 300-seat parliament, according to a live feed broadcast by South Korean television channels. Two more MPs abstained from voting, and seven ballots were reported spoilt.
The Constitutional Court will now have to decide whether to uphold the motion or reject it. If the motion is upheld, Park will become South Korea's first democratically elected leader to be removed from office.
A political scandal around the president broke out in late October when media reported that Park allowed Choi Soon-sil, her friend and "shadow adviser," who held no official post, to edit her speeches thus letting her influence the country's policy.
Moreover, Choi was suspected of pressuring South Korean big corporations and extorting money from them for her non-commercial funds.
The situation has triggered protests around the country and the president has been criticized by the country's politicians, including the ones from her own party. The president could be impeached if two-thirds of the 300-seat legislature support the move.