MOSCOW (Sputnik) — Russia's reconciliation center is evacuating civilians from eastern Aleppo in Syria through humanitarian corridors, the Russian Defense Ministry's spokesman Maj. Gen. Igor Konashenkov said Saturday.
"The Russian center for reconciliation has organized evacuation of civilians from eastern Aleppo districts through humanitarian corridors," Konashenkov said, adding that Syrian government forces were now in control of 93 percent of the northern Syrian city.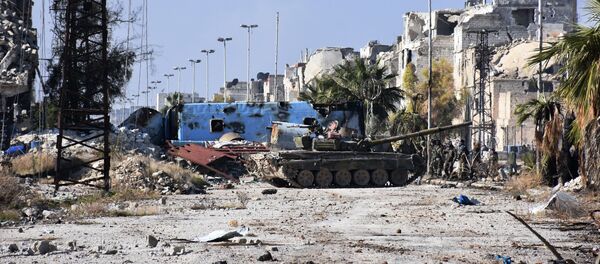 10 December 2016, 06:45 GMT
Maj. Gen. Konashenkov said there was a "continuous flow" of people fleeing the rebel-held eastern part of
Aleppo
to that controlled by the government.
The Syrian Army on Saturday suspended its offensive against the militants in Aleppo for the time of the evacuation of civilians from the eastern neighborhoods of the city through humanitarian corridors launched by the Russian Reconciliation Center.
"For the time of the withdrawal of civilians, the Syrian troops halted their offensive," Konashekov told reporters.
He noted that the Syrian troops would continue the liberation of eastern Aleppo after the completion of the evacuation.