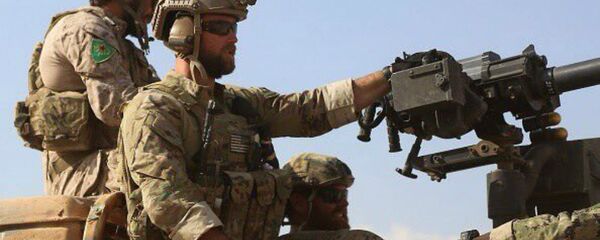 10 December 2016, 13:43 GMT
President Obama's
memorandum
, issued Thursday to the Departments of State and Defense, officially waived prohibitions on the provision of US military equipment to "foreign forces, irregular forces, groups, or individuals" that are "engaged in supporting or facilitating ongoing US military operations to counter terrorism in Syria." According to the document, the relevant departments will require Congressional authorization to proceed in providing official US support to Syria-based militants.
The move comes as US and Gulf State-supported rebel groups in the city of Aleppo face the prospect of imminent defeat at the hands of the Syrian Army and its allies, which have been conducting an active campaign to liberate the country's second city for several months. Observers say that the Syrian Army is poised to restore complete control over Aleppo 'within weeks', with the Syrian government already establishing control over more than 90% of the city, according to the Russian Ministry of Defense. In less than a month's time, rebels are reported to have lost 70% of the territory under their control.
At the same time, about 50,000 civilians have managed to flee the militant-held portions of the city in the last two days alone. Syrian media has reported that the commanders of some opposition groups are trying to establish contact with Damascus to discuss a deal which would allow insurgents and their families to evacuate Aleppo. Aleppo's liberation would significantly strengthen Syrian President Bashar Assad's negotiating position in peace talks, with the government effectively asserting control over most of the country's largest cities. 
Accordingly, with the situation in Aleppo reaching a critical juncture for the rebels, and Obama preparing to make way for the incoming Trump administration, which has repeatedly promised to make fighting Islamist terrorism Washington's main priority in Syria, Obama's memo appears to be the last-ditch effort to prop up US-supported forces, both in Aleppo and elsewhere in the country where militants continue to maintain a foothold.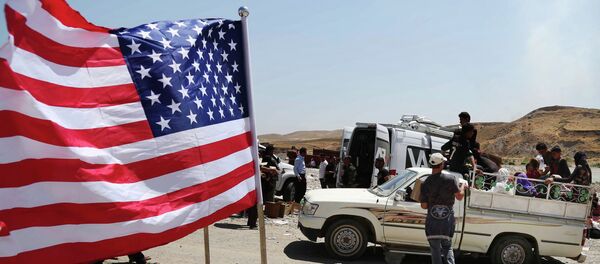 9 December 2016, 18:20 GMT
Vladimir Yevseyev, the deputy director of the CIS Institute,
says
that Obama's 'new' policy, announced just weeks before the end of his tenure, is aimed at "setting the tone for US involvement in Syria, and to set a certain algorithm of actions for his successor, Donald Trump. He is looking to bind Trump in some way, forcing him to pursue the Obama policy in the Middle East. But this does not mean that Trump will continue to act exactly the way Obama wants."
Anatoly Tsyganok, a retired military officer and head of the Russian Center for Military Forecasting, agrees with his colleague. Speaking to Russia's RIA Novosti news agency, the analyst explained that "most likely, the US is going to act according to the tried and true plan of taking advantage of a negotiating pause [in hostilities] to allow the so-called irreconcilable opposition to regroup, reequip and again turn it against Syrian government troops. Obama is doing everything he can to continue the policy aimed at overthrowing the current Syrian government."
At the same time, multiple observers have warned that if the US Congress approves the Obama Administration's proposals, the weapons provided could easily end up in the hands of Daesh (ISIL) and al-Nusra, terrorist groups Washington is ostensibly committed to fighting.
© REUTERS / Abdalrhman Ismail
A Harakat Nour al-Din al-Zenki fighter watches news about Donald Trump's election as president on his smart phone in the rebel held beseiged area in Aleppo, Syria November 9, 2016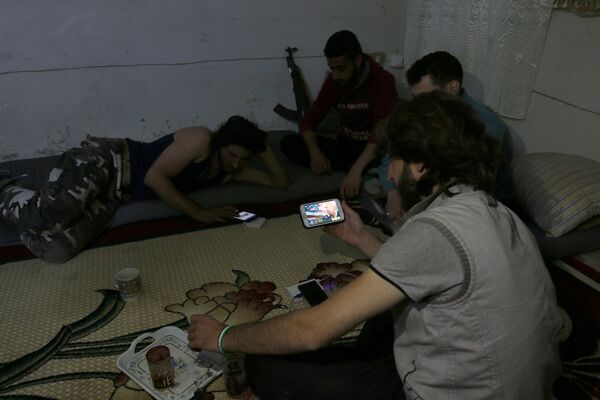 A Harakat Nour al-Din al-Zenki fighter watches news about Donald Trump's election as president on his smart phone in the rebel held beseiged area in Aleppo, Syria November 9, 2016
For this reason, Yevseyev suggested that given the "very dangerous undertaking" the provision of such weapons would imply, "it is likely that implementation will meet resistance from Congress and even sabotage by those charged with executing the order. Everyone in Washington understands that Obama will soon leave office, and it's unlikely that anyone will be eager to take responsibility for such hasty decisions."
But dangers remain, Yevseyev added, particularly if Congress approves Obama's proposal, which would make it more difficult for President-elect Trump to undo the decision once he steps into office.