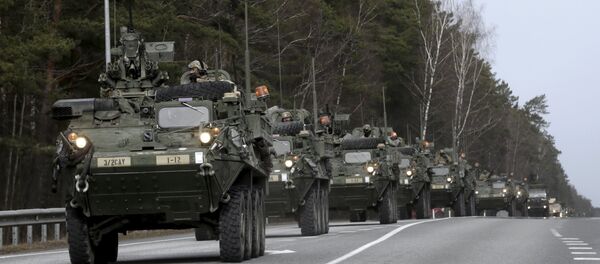 9 December 2016, 17:36 GMT
The Polish
radio station RMF24
quoted Polish Foreign Minister Witold Waszczykowski as saying that Warsaw has handed NATO a secret document on what the alliance should discuss with Russia.
Waszczykowski made the statement after a meeting of the NATO foreign ministers which focused on the work of the Russia-NATO Council. Even though he declined to elaborate, RMF24 managed to obtain information about the content of the letter.
In the dialogue with Russia, NATO should avoid discussing issues on which the EU members remain at odds, so that Russia cannot benefit from contradictions between European countries, according to the letter. Secondly, the dialogue with Russia should be limited to Ukraine, Afghanistan and security guarantees in the future.
© AP Photo / Yves Herman
A general view of the table for a meeting of the NATO-Russia Council at the level of defense ministers at NATO headquarters in Brussels. File photo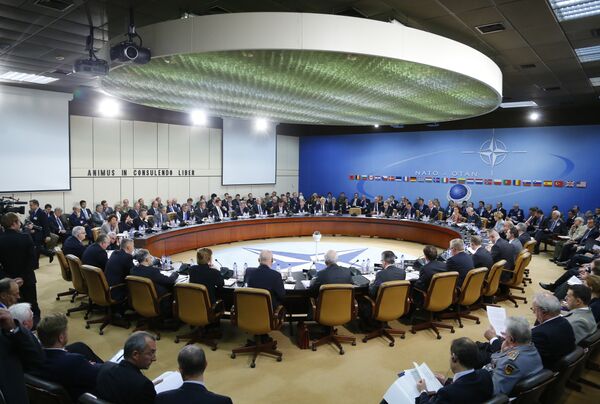 A general view of the table for a meeting of the NATO-Russia Council at the level of defense ministers at NATO headquarters in Brussels. File photo
Also, NATO should bolster coordination and exchange of information with the OSCE in order to better understand what Russia is, the letter said according to the RMF24. The radio quoted Waszczykowski as saying that apart from Poland, some other countries, including the UK, had delivered similar documents to NATO.
Commenting on the matter, political analyst Konrad Rekas told Sputnik's Polish edition that "media outlets in Poland unexpectedly announced that the country's Foreign Minister Waszczykowski acts as a NATO leader who instructs [NATO chief] Jens Stoltenberg and other world politicians about how to deal with Russia."
Referring to Warsaw's letter to NATO, Rekas described it as a document which "contains some political circles' claims that it is they who know eastern politics, especially regarding the political situation in Russia; of course, her said, this knowledge is only based on unhealthy ideology rather than facts and Polish historical experience."
Rekas also doubted Waszczykowski's allegations about Warsaw sending a letter of instructions to NATO, predicting that the Polish Foreign Minister will soon step down.
"NATO leaders were clearly embarrassed by the advice they received. They do not want to listen to the current Polish authorities, who express indignation about NATO's dialogue with Russia," according to him.
"In any case, NATO leaders did not confirm Waszczykowski's allegations after their ministerial meeting. The reaction of Russia and NATO indicates that unlike others, Waszczykowski perhaps attended some other NATO summit," Rekas said.
He added that Waszczykowski's allegations reflect NATO's internal divisions over the alliance's policy, which comes amid hawkish statements by Poland, the US and the UK.
"However, other NATO members and even Stoltenberg are toning down militaristic rhetoric in anticipation of further developments [after Donald Trump's win in the US presidential elections].  Experts, including Western ones, clearly say that NATO in its present form makes no sense and cannot continue to exist," Rekas said.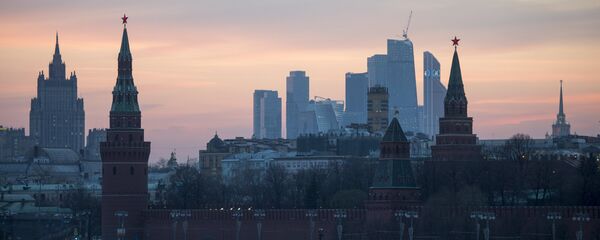 6 December 2016, 07:43 GMT
As for Waszczykowski, he continues to use the language of confrontation and calls for bullying Russia, which sounds absurd for anyone who understands what Russia is, according to Rekas.
He predicted that discrepancies between Warsaw and Washington will deepen in the future, something that he described as "a tendency of quasi-geopolitics in Poland."
Instead of learning lessons from what is happening in the United States, Britain, France, Italy and the Netherlands, Warsaw focuses on boosting propaganda for internal political strife, Recas concluded.