11 December 2016, 07:57 GMT
CAIRO (Sputnik) – Egyptian President Abdel Fattah Sisi has offered to Russian energy giant Rosneft to consider development of oil and gas deposits on the country's land and shelf,  the company is ready to consider them, Rosenft head Igor Sechin said Monday.
Earlier in the day, the Rosneft board of directors approved the purchase of 30 percent in the concession agreement on the development of the Shorouk gas field and 15 percent in its operator for $2.8 billion.
"The president of Egypt has offered to consider the company's participation in development of other fields both on the shelf and on land. Of course, we shall carefully consider all proposals of Egyptian partners," Sechin told reporters.
Sechin also stated that he had given a message on economic cooperation from Russian President Vladimir Putin to Egyptian President Abdel Fattah Sisi.
"President Abdel Fattah Sisi received me today upon request of the Russian presdeint. I passed on a message to Vladimir Putin to the Egyptian president on development of trade and economic cooperation and implementation of a number of projects in the energy sector between our countries," Sechin told reporters.
Late on Sunday, Sechin arrived in Cairo for a single-day visit. He is expected to hold talks with the Egyptian leadership, possibly, with President Abdel Fattah Sisi.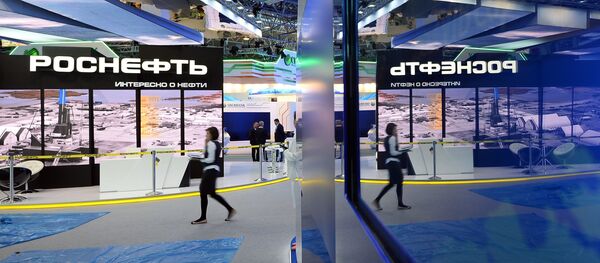 11 December 2016, 07:17 GMT
According to El Balad newspaper, citing a source at the Oil Ministry, the sides will discuss support for cooperation between Egypt and Russia in the oil sector, as well as the possibility of creating an investment fund involving Egypt, Russia and the United Arab Emirates for the implementation of major investment projects in the energy sector.
Sechin informed Russian President Vladimir Putin on Wednesday that an agreement had been reached to sell the government stake in the company to a consortium of mining group Glencore and Qatar's sovereign wealth fund for 10.5 billion euros (some $11.3 billion).
During the Wednesday meeting, Rosneft's Board of Directors considered the acquisition of 35 stakes in the Egyptian the Shorouk Block, which reportedly is the largest newly-discovered gas field in the Mediterranean Sea.
Rosneft is one of Russia's leading energy companies working both in the country and abroad. The company has assets in a number of countries, including Russia, China, Vietnam, Brazil, Norway, Italy and the United States among others, according to the company's website.