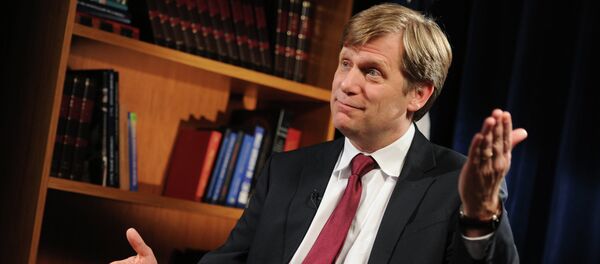 11 December 2016, 12:14 GMT
The White House appears to be dedicated to its stalwart campaign to ferret out any traces of Donald Trump and his team secretly conspiring with Russia, no matter how imaginary they are.
During his daily briefing on Monday, December 12, White House spokesman Josh Earnest insisted that Donald Trump and some of his top aides allegedly enjoy lucrative ties with Russia or even directly receive money from a "Russian propaganda outlet."
"It was the president-elect who refused to disclose his financial connections to Russia. It was the president-elect who hired a campaign chairman with extensive, lucrative, personal financial ties to Russia. It was the president-elect who had a national security adviser on the campaign that had been a paid contributor to RT, the Russian propaganda outlet," Earnest declared.
While the spokesman opted not to name any names in his accusatory speech, it is not hard to deduce that the "campaign chairman" in question is Paul Manafort, a one-time advisor to the former Ukrainian president Victor Yanukovich, while the "national security adviser" is Ret. Lt. Gen. Michael Flynn, former head of the Defense Intelligence Agency.
It should be noted that Manafort was earlier accused by Ukraine's National Anti-Corruption Bureau of pocketing some $12.7 million worth of 'black cash' supplied by corrupt Ukrainian oligarchs. However, the agency was subsequently unable to provide any evidence of these alleged wrongdoings, and Nazar Kholodnytskiy, head of the Ukraine's Specialized Anti-Corruption Prosecutor's Office, had to admit that so far no reason has been found to hand Manafort a notice of suspicion, RIA Novosti points out.
Meanwhile, Michael Flynn did indeed appear as a guest on RT and even attended the RT anniversary event in Moscow, where he was seated next to Russia's President Vladimir Putin. Nevertheless, Kremlin spokesman Dmitry Peskov made it clear that Putin and Flynn did not engage in lengthy conversations of any kind.
RT was less than amused by the accusations brought forward by Earnest against both Flynn and the news agency, and decided to clarify the issue in no uncertain terms.
"We are rather amazed at the misinformation peddled by White House press secretary Josh Earnest. At no time has General Michael Flynn ever been a paid contributor to RT. General Flynn has appeared as a guest on our award-winning news network, alongside many international experts who respond to our invitation to share their views," the news channel's press office stated.
It remains to be seen whether the Obama administration will continue to push forward these claims.