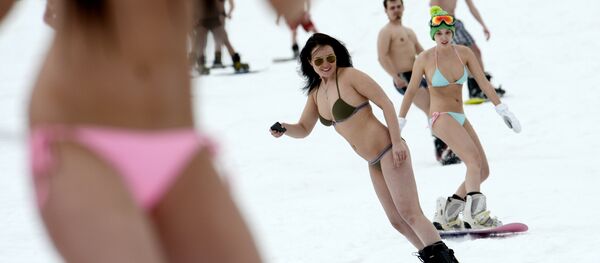 12 December 2016, 11:42 GMT
Wild bears, snakes, poisonous mushrooms and unforgiving Siberian winter weather – this is what awaits the participants of the new reality TV survival project called Game2: Winter.
Yevgeny Pyatkovsky, author of the project, told Sputnik that 30 contestants will have to survive for nine months while stranded in the middle of Siberian wilderness far away from civilization, with survival tips and instructions provided by former GRU Spetznaz operatives.
"There have been no reality TV projects before that would stay on air 24/7. Probably all of you have watched the Lost TV series, but surviving in a tropical climate is quite different from trying to stay alive in the Siberian taiga (boreal forest) at minus 40 degrees Celsius. There will be no filming crew: the whole area will be dotted with cameras and each participant will be carrying a portable camera with 7-hour life rechargeable battery," he said.
Taiga landscape in East Siberia
According to Pyatkovsky, those who want to take part only have to be mentally sane and at least 18 years old; it will be viewers who will decide via voting on the project's website whether a person should take part in the contest. He also added that people from all corners of the world can participate as the project's broadcasts will be simultaneously translated in "English, French, German, Spanish, Chinese and Arabic."
"Imagine: a forest. The contestants arrive there on July 1 after a short training period. Each will have 3-4 months before first cold snaps of winter to construct a shelter. They can live separately or join up and form teams. You should also keep in mind that this will be a real forest, with dangerous wildlife and harmful insects. Of course there will be some safety precautions in place, but it would still take about half an hour to reach the area where the show will take place by helicopter. And it will be about minus 40 degrees (Celsius) in winter – imagine what it takes to go fishing during that time. The contestants won't only have to build a shelter, but to forage enough supplies to last through winter," he explained.
He pointed out that since the show will be taking place in a 3.5 by 3 kilometers area (over 2.5 thousand acres) it will be virtually impossible to track all potential threats, and that all participants will have to sign release of liability for injury and death waivers.
Each participant will be allowed to take no more than 100 kilograms of equipment. Each week participants may request some item from the viewers who can then donate money for it via the project's website; purchased items will then be delivered to participants.
"This will be a very entertaining and educational project," Pyatkovsky concluded.