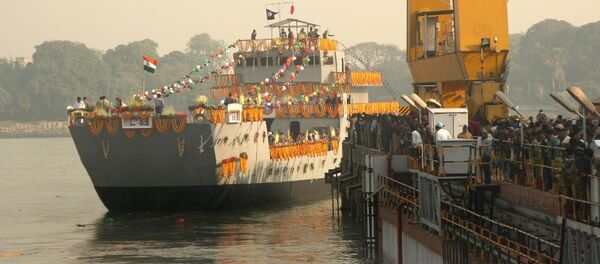 16 December 2016, 15:45 GMT
New Delhi (Sputnik) — India has maintained its consistent approach of ignoring Chinese dissatisfaction over Tibetan exiled spiritual leader Dalai Lama's activities. The latest incident was the Dalai Lama's meeting with Indian President Pranab Mukherjee on December 10 at a festival organized by Nobel Laureate Kailash Satyarthi's Children's Foundation.
"You are aware of India's consistent position. His Holiness the Dalai Lama is a respected and revered spiritual leader. It was a non-political event organized by a Nobel laureate [who is] dedicated to the welfare of children," said Vikas Swarup, spokesperson of India's Ministry of External Affairs.
China has often cautioned India and asked it to respect its core interests to avoid any adverse impact on bilateral relations. "We urge the Indian side to see through the anti-China separatist nature of the Dalai Lama clique, fully respect China's core interests and major concerns, take effective means to remove the negative impact caused by the incident to avoid any disturbance to China-India relationship," Geng Shuang, Chinese Foreign Ministry spokesman said in response to Dalai Lama's meeting with the Indian President.
Geng stressed that the "Dalai Lama is in political exile and has long been engaged in anti-China separatist activities with the attempt of separating Tibet away from China under the cloak of religion."
For several months, China has kept asking the Indian government to drop plans to invite the Dalai Lama to a function scheduled for next spring in Tawang, considered by China as disputed territory.