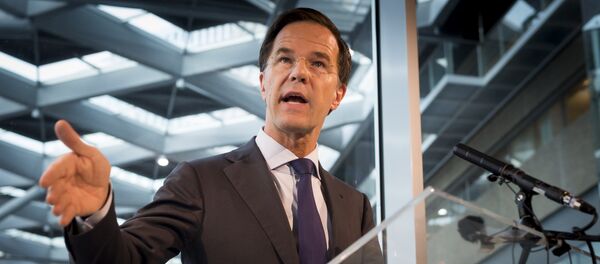 15 December 2016, 23:48 GMT
BRUSSELS (Sputnik) – The summoning of Russian and Iranian ambassadors by the Dutch Foreign Ministry highlights the importance of the two countries in the resolution of the situation in Syria's Aleppo, Dutch Prime Minister Mark Rutte said.
"Iran and Russia have a special responsibility in finding an acceptable solution, because they are heavily involved," Rutte said on Thursday.
On Wednesday, Dutch Foreign Minister Bert Koenders summoned Russian Ambassador Alexander Shulgin and Iranian Ambassador Alireza Jahangiri to the ministry over the situation in Aleppo.
Also on Wednesday, the Russian center for Syrian reconciliation said that militants in the Salah al-Din district of Aleppo had violated the agreement reached with the Syrian authorities on leaving the city and used the ceasefire to regroup and begin hostilities again.
Aleppo has recently become a major battleground for Syrian government forces fighting against militants and extremists in an effort to liberate the city and save civilians thousands of whom have no access to food, water, electricity or medical assistance.