"Brexit means Brexit."
It's been the vague mantra of UK Prime Minister Theresa May since she first took office in July 2016.
The key question for the British businesses, waiting for trade deals, tariffs and the question of single market access to be confirmed, is also one of timing.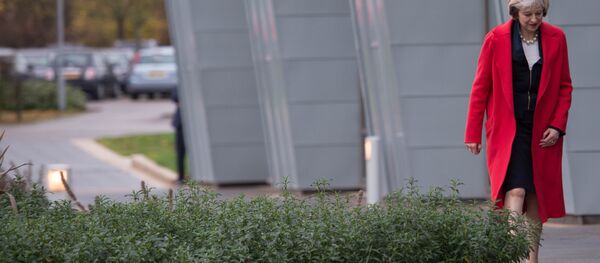 16 December 2016, 14:11 GMT
How long will it be before the dust has settled on the first exit of a member state from the European Union?
Early indicators from EU powerhouse Germany is that the answer may be "not any time soon!"
Stephan Mayer is the home affairs spokesman for German Chancellor Angela Merkel's Christian Democratic Union (CDU) party.
In an interview with BBC Radio 4 he said that British hopes for a speedy trade settlement are "a little bit naive".
"I think it is very ambitious to finish these negotiations within two years. There is a clear German position — we want negotiations on a level playing field and certainly we would like Great Britain to stay as a very important pillar within the single market and contribute to the single market."
It comes as UK Prime Minister appears to be struggling to make her mark among her fellow EU leaders.
In a cringe-worthy diplomatic moment laid bare on Thursday 15th December, Mrs. May was filmed shuffling awkwardly alone at an EU leaders summit.
The embarrassment for the prime minister didn't stop there.
In a leak, it was revealed on the same day — Thursday 17th December — that even Britain's ambassador to the EU has told the government that he expects a post-Brexit trade deal could take up to 10 years to finalize.
I worked with Ivan Rogers in Brussels on trade deals 20 years ago. He knows what he is talking about. Govt should listen.

— Nick Clegg (@nick_clegg) December 15, 2016​
Sir Ivan Rogers is reported to have warned ministers in October 2016, that other EU member states believe a trade deal will not be finalized until as late as the mid-2020s.
Sir Ivan Rogers spectacularly failed to get a deal which might have secured a Remain vote. Why should ministers listen to him now?

— Daniel Hannan (@DanielJHannan) December 16, 2016​
A Downing Street spokesman was quick to respond.
"We don't recognise this. It is wrong to suggest this was advice from our ambassador to the EU. Like all ambassadors, part of his role is to report the views of others."
UK Chancellor, Philip Hammond, also weighed in on the furor, speaking from South Korea.
"I don't expect that it will take as long as that."
"There will be two stages in this process: first we will negotiate a deal for our exit from the European Union and, once we have started that process, we will, in parallel, begin to negotiate new arrangements with our former European Union partners so that we can continue to trade and work closely with them."
Days earlier Prime Minister May had called for EU officials to make more progress on coming to a deal to confirm the legal situation of Brits living on the continent, and EU citizens residing in Britain. Mrs May was not allotted any time to speak about these Brexit issues at the EU summit.
However, she is not without sympathizers.
Germany's Mr. Mayer said that his government's view was also that of wanting to find a fast irresolution to the uncertainty of EU citizens living and working abroad.
"I have much sympathy and understanding for this British position," he said.
"Certainly more than 1 million British citizens live in the other 27 member states, so that is a very decisive issue for the UK government and certainly the other way around; more than 300,000 German citizens, for instance, are living in the UK, so I think we have the same interests."