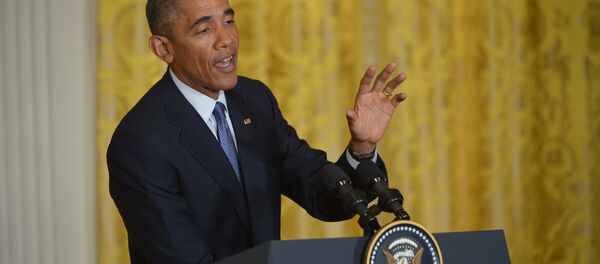 16 December 2016, 19:38 GMT
In Friday's
address
, Obama formally accused the Kremlin of engaging in cyber-attacks, adding that the US "reserve[s] the right to retaliate at a place and time of our choosing."
Since late July, Hillary Clinton, the Democratic Party and the Obama administration have engaged in a massive campaign to convince Americans that Russia was responsible for the hack and leak of damaging DNC and Clinton campaign documents to WikiLeaks. After Donald Trump's unexpected victory, the Democrats only intensified their campaign, citing supposedly classified intelligence analyses to call the results of the election into question. Russia has repeatedly denied any involvement, while the President-elect and his staff have mocked the claim as a 'conspiracy theory'.
Speaking to Radio Sputnik about President Obama's final year-end presser, independent political commentator Aleksandar Pavic explained that in many ways, Obama has become "a prisoner" of the narrative presented by America's powerful media and political establishment.
"Obama is a prisoner of the narrative that's been spinning around in the mainstream media ever since Donald Trump became the Republican nominee and Hillary Clinton's opponent," Pavic noted. "It's just media warfare against an obviously anti-establishment candidate, who to everyone's surprise became president of the United States." This 'surprise' was particularly unpleasant to the neoliberal and neoconservative establishment which has ruled the US since the end of the Cold War, the analyst stressed.
"Obama – even if he thinks differently, is a prisoner [of this narrative], and there's no going back now," Pavic added. After all, "he still has a life to live" after retirement, including via the lucrative speaking circuit. "He's not going to relinquish that now, even in the waning days of his presidency; so he's just continuing this narrative, which is totally baseless."
In fact, according to the analyst, the 'Russian hack' story is really "the king of fake news…We haven't been presented with a shred of evidence from any credible source, or from any source that's not anonymous, that Russia did in any way interfere with the election process in the United States." Nevertheless, all through Friday's press event, mainstream journalists pushed Obama into continuing to talk about Russia and its alleged role in the hack.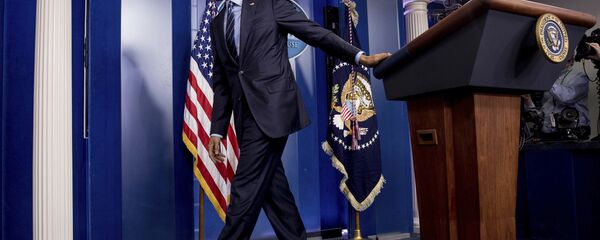 17 December 2016, 00:03 GMT
Noting that he was far from a defender of the president, Pavic pointed out that Obama was not the only actor in the panoply of baseless accusations and outright lies by the US establishment against Russia in recent months. "It wasn't just a one man show; it was an establishment show," he stressed. 
"Why am I being a little bit kind to Obama? We must be kind to the losers, and in fact he is a loser, and his establishment is a loser, and they're trying, for one to put a good face on their loss, and for another, to dilute the win – to discredit the winner," the commentator added.
"So Obama is in fact not even the most aggressive among these people – even though he could be," Pavic emphasized. "What was it that actually went on? Obama hasn't said a word. He rules over 17 different intelligence agencies. Not one of them has offered concrete proof. In fact, only the CIA, and supposedly the FBI via a memo, are saying that there are 'indications' of Russian meddling. [Among] the rest of the intelligence agencies, including the NSA, nobody has presented any proof."
"In that sense," the analyst argued, "this is just a huge psy-op that's going on, and will be going on at least until January 20th, and beyond that in the liberal media; it's anti-Russia bashing to the maximum; it's raising the global temperature; it's rekindling the Cold War."
Asked if the whole blame Russia was really just a 'slow-moving coup' effort by the establishment to delegitimize President-elect Trump and even the election results themselves, Pavic confirmed they're certainly trying. "For one thing we have this whole campaign of convincing Republican electors to not vote for Donald Trump on December 19. Then of course we do have Congress – a joint session on January 6 where they have to confirm – to count the Electoral College votes. So at that time, if you have just one congressman or senator raising an objection to an elector's vote, that causes a debate, and in fact they can throw out an elector's vote if both houses vote for it."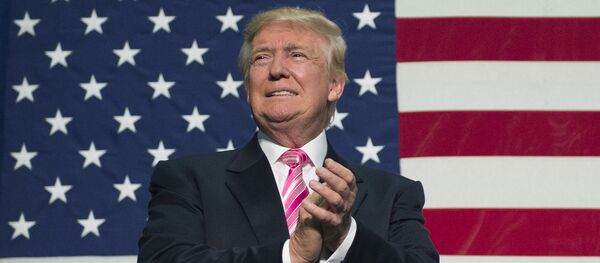 18 December 2016, 11:32 GMT
"So it's not over yet, and there's a big psy-op going on right now," the analyst warned. To succeed on December 19 when electors cast their ballots, they would need 37 Republican electors to change their votes to deprive Trump of the necessary 270 electoral votes.
"This is not just the Clintons — this is the establishment. This is the neoconservative/neoliberal establishment that has been in power in Washington since George Bush Sr, and especially since Bill Clinton became president," Pavic noted. 
"They practically kidnapped foreign policy, and domestic policy as well. This is something that Trump based his campaign on: the two core issues on which this establishment has thrived for the past 25 years – globalization and foreign interference. It would be a death blow for them for somebody to come in and reverse this, because this is what they live on," the analyst concluded.