VLADIVOSTOK (Sputnik) — A squadron of warships of the Russian Pacific Fleet, including the large anti-submarine warfare ship Admiral Tributs and the Boris Butoma fleet oiler, has left the Indian port of Visakhapatnam to participate in the joint Russian-Indian naval drills Indra Navy 2016, spokesman for the Russian Defense Ministry's Eastern Military District Vladimir Matveev said Sunday.
"The active phase of the drills will be held on December 19-21 in the Bay of Bengal. The crews of the ships will practice communication skills, repelling aerial attacks, joint maneuvering as part of tactical groups, shelling naval and aerial targets, as well as elements of antisubmarine defense and resupply on the move," Matveev said.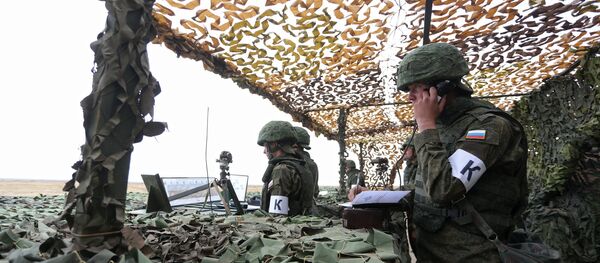 23 September 2016, 14:34 GMT
Matveev noted that subdivisions of Indian special forces and naval personnel of the
Pacific Fleet
would hold an exercise search operation as part of counter-piracy drills.
Indra Navy 2016 drills are being held in the Bay of Bengal on December 14-21. This year, some 500 servicemen are engaged in the drills, according to the Russian Defense Ministry.
The first joint Russian-Indian naval drills were held in 2003. The exercises were also held in 2007, 2014 and 2015.