MOSCOW (Sputnik) — According to The Guardian, UK Defense Secretary Michael Fallon had seen the government analysis indicating the use of British-made cluster bombs by Riyadh. The minister learned about the results of the report about a month ago, the sources said.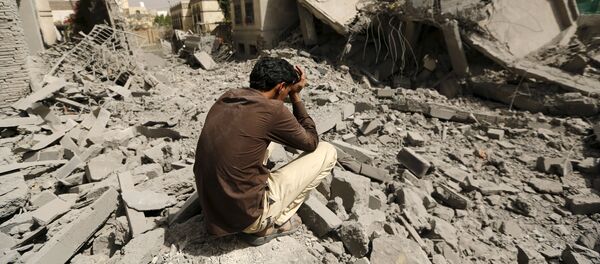 15 November 2016, 16:21 GMT
Late last year, Amnesty International reported that civilian infrastructure in Yemen was destroyed by the Saudi-led coalition using a UK-made cruise missile. Later, The Independent newspaper reported that the British government could be prosecuted for war crimes after more evidence emerged of the use of UK weapons sold to Saudi Arabia against civilian targets in Yemen.
Yemen has been engulfed in a military conflict between the government headed by Abd Rabbuh Mansur Hadi and Shiite Houthi rebels, who have been supported by army units loyal to former Yemeni President Ali Abdullah Saleh.
Since March 2015, a Saudi-led coalition including Arab countries has been carrying out airstrikes against Houthi positions at the request of Hadi. The UN Office of Coordination of Humanitarian Affairs said Saudi Arabian attacks on civilian areas had broken international law, but Riyadh denied the claims.