ANKARA (Sputnik) — On Monday, Russian Ambassador Andrey Karlov was killed by a gunman, identified as Mevlut Mert Altintas, a Turkish police officer, who was standing behind the diplomat at an art gallery exhibition opening in Ankara. The gunman was killed at the scene by the police. The Russian Foreign Ministry said it considered the attack a terrorist act.
"Our minister, who is currently in Moscow, held a telephone conversation with Kerry. Cavusoglu told him that Russia and Turkey were aware that the FETO had been behind this attack. The minister also informed Kerry about the results of the trilateral Russia-Turkey-Iran ministerial meeting on Syria in Moscow," the diplomatic source in Ankara said.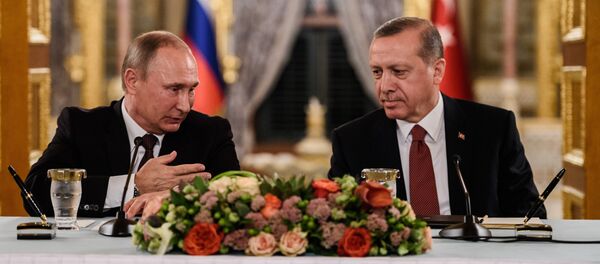 20 December 2016, 17:32 GMT
Following Monday's attack, chief adviser to Turkish President Recep Tayyip Erdogan and columnist Ilnur Cevik told Sputnik that the killer of the Russian ambassador had been affiliated with the Gulen movement.
On July 15, a military coup attempt took place in Turkey. Ankara accused Islamic preacher Fethullah Gulen, who has been living in the US state of Pennsylvania since 1999, and his followers of playing a key role in the coup. Since July, Turkey has arrested hundreds of military personnel, activists and journalists on suspicion of links with Gulen.