In a Montreal federal court, Canada is contending that the authority to decide what constitutes a legal weapons sale lies not with the court, but with Foreign Affairs Minister Stephane Dion. Ottawa maintains that this should be the case even if the country's Light Armored Vehicles (LAVs) are used in a war responsible for the death of thousands of civilians.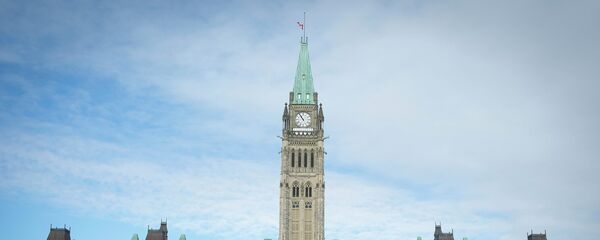 4 October 2016, 23:24 GMT
Turp's lawyer, Andre Lesperance, told the court that, "To give arms to a country that uses them to violate human rights is to contribute to that violation…It's beyond willful blindness." according to RT.
In April, Dion admitted to pushing the Saudi weapons sale through, and told an editorial board that he acted with only one other minister and did not receive counsel from Prime Minister Justin Trudeau or other advisors.
"It's not a cabinet decision. It's a minister's decision," he said, according to the Globe and Mail, "I made my decision with the consultation of the Minister of Trade Madame Freeland." 
Dion added that reneging on the $15-billion deal could sour possible relations with Saudi Arabia in the future, saying, "If you cancelled a contract of this magnitude, it will resonate everywhere – until the United Nations. And Saudi Arabia will have to react. Don't think they will praise Canada."
Dion's admission contradicts comments he made to a Senate Committee in February that minimized his government's role in the arms deal. "First of all, the government is not approving this contract." he claimed, "The government is simply refusing to cancel a contract approved by the former government, a contract between a private company and Saudi Arabia." 

Ottawa's legal defense justified the sale by asserting Riyadh's right to use weaponry as they see fit and pointing out that the kingdom does not pose a security threat to Canada.
Vice News quoted government lawyers saying, "Saudi Arabia is a key partner for Canada and an important ally in the region, plagued with instability, terrorism, and conflict," and, "More particularly, the fact that Saudi Arabia is not a threat, but moreso a key military ally who backs efforts of the international community to fight the Islamic State in Iraq and Syria and the instability in Yemen. The acquisition of these next-generation vehicles will help in those efforts, which are compatible with Canadian defense interests."
Despite claims from Ottawa to operate in an "open and transparent" manner, the government is not forthcoming with details of military contracts and will not release unredacted human rights assessments of the weapons sale.