The last convoy evacuating militants from eastern Aleppo has left the city, the source said.
"This convoy is the last one. Now we can say that all militants have left Aleppo, and the city is fully controlled by the Syrian army," the source said.
"The command of the Syrian army declares that peace and security returned in the city of Aleppo," the army's statement read.
"This victory is of strategic importance and has become critical in the fight against terrorism on the one hand and dealing a blow to terrorists' project and all who supports them," the Syrian army said. "This victory has proven the ability of the Syrian army and its allies to win the fight against terrorist groups, and it marks the beginning of a new stage in the liberation of the entire Syrian territory from terrorists."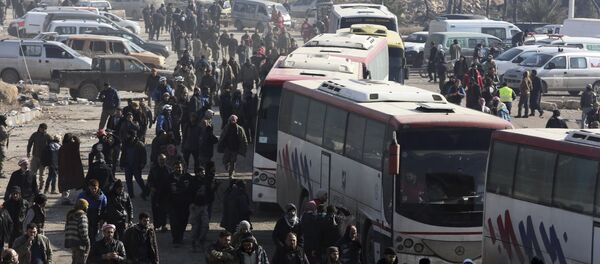 22 December 2016, 17:46 GMT
Earlier in the day, Lebanese media reported that the last convoy, consisting of 15 cars and 4 buses, has begun to leave eastern Aleppo.
On December 16, the Russian Defense Ministry's center for Syrian reconciliation said that the Syrian army operation to liberate the eastern neighborhoods of the Syrian city of Aleppo was over, and that Syrian government troops were eliminating separate hotbeds of militants' resistance.
Earlier in the day, UN Special Envoy for Syria Staffan de Mistura said that Thursday may be crucial for the civilians' evacuation from the eastern part Aleppo.