MOSCOW (Sputnik) — In Germany and Spain, the number of discontented residents was 45 percent; the lowest number was in Poland, at 35 percent. The poll was conducted by Ifop for Sputnik news agency and radio.
Only 16 percent of respondents in Germany, 7 percent of respondents in France, Spain and Great Britain, 6 percent in Poland and 2 percent in Italy saw an improvement in the situation. Those who are discontented for the most part are supporters of right-wing parties and people of over the age of 35. The exceptions are Poland, where political views did not influence the results much, and Germany, where the same opinion was voiced by people of different ages.
© Sputnik
Majority of EU, US Citizens Believe Situation With Migrants Worsens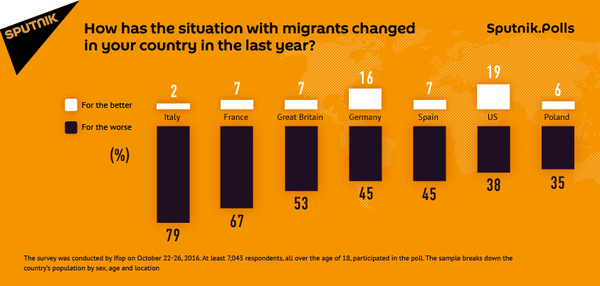 Majority of EU, US Citizens Believe Situation With Migrants Worsens
In the United States, 38 percent of respondents thought the migrant crisis has worsened, 19 percent noted a positive trend and 33 percent did not see any difference.
The survey was conducted by Ifop, the oldest polling company in France, between October 22 and October 26, 2016. The survey involved 7,043 respondents over 18 years of age in France, Germany, Italy, Poland, Great Britain and the US. The sample is representative of the country's population with respect to gender, age and geography. The maximum selection bias in general in a country is +/− 3.1 percent with a 95 percent confidence level.
About the Sputnik.Polls Project
The international public opinion project was created in January 2015, in partnership with leading research companies such as Populus, IFOP, and forsa. The project organizes regular surveys in the United States and Europe on the most sensitive social and political issues.
Sputnik is a news agency and radio network with multimedia news hubs in dozens of countries. Sputnik broadcasts through its websites in over 30 languages, as well as on analogue and digital radio, mobile apps, and social media. Sputnik newswires, available by subscription, 24/7 in English, Arabic, Spanish and Chinese.
Find other Sputnik.Polls surveys here