TOKYO (Sputnik) — On November 30, the UN Security Council unanimously adopted a draft resolution imposing new sanctions on North Korea as a result of a nuclear test in September and missile launches.
"In the situation where there are no systems and no legal mechanisms to prevent wars and armed conflicts, the latest UN Security Council resolution on sanctions is essentially a declaration of war, it makes war unavoidable," the statement read, as quoted by the state information agency KCNA.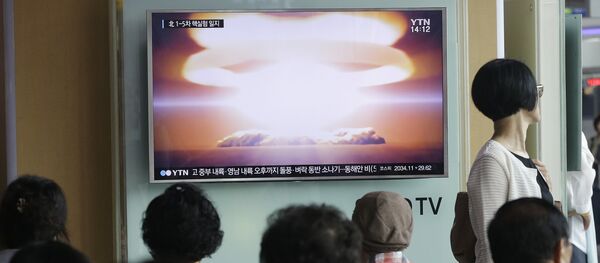 1 December 2016, 06:00 GMT
The North Korean foreign ministry said that the United States and all other countries responsible for the adoption of the resolution will hold responsibility for all consequences of this decision.
The UN Security Council adopted the first resolution on North Korea in 1993. In 2016, the Council held 9 emergency consultations in response to Pyongyang's nuclear test and ballistic missile launches. This year the country conducted two nuclear tests and at least 25 launches using ballistic missile technology.