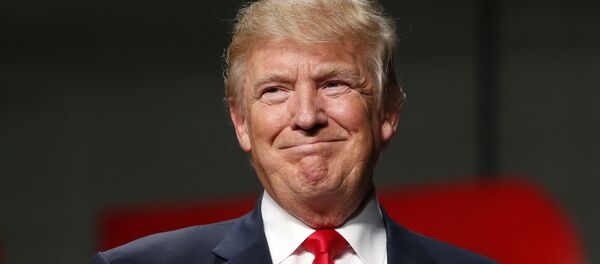 23 December 2016, 10:04 GMT
MOSCOW (Sputnik) — US President-elect Donald Trump felt the mood of the US society, which helped him follow his electoral campaign to the end and win the election, even though no one believed in his success except Russia, Russian President Vladimir Putin said Friday at an annual press conference.
Outgoing US President Barack Obama said that former Republican US President Ronald Reagan would be turning in his grave upon learning how many of his supporters backed Putin. He cited a study according to which 37 percent of Republican voters support the Russian president.
"Reagan would be glad, I think, that the representatives of his party won everywhere [at US elections]. And he would be happy for the newly-elected president who subtly felt the mood of the society, and in exactly this paradigm went through, even when no one believed but us in his victory," Putin said.
"I do not take personally the fact that a significant part of American voters support the Russian president. I think this reflects that the significant part of the American people has the same vision of how the world should work, what we should do, what our common threats and issues are," the Russian president added.
He noted that it was "a good thing that there are people who share our ideas about traditional values." "Because it is a good prerequisite for building relations between two such powerful countries like Russia and the United States, on the basis of mutual affection of the peoples to each other," Putin said.