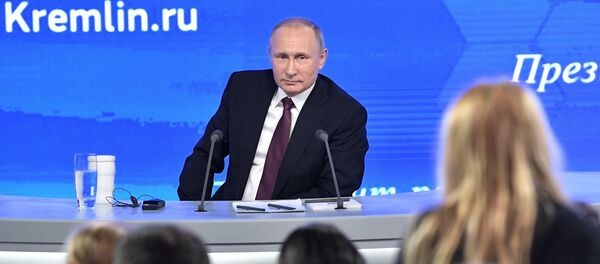 23 December 2016, 15:37 GMT
At a major press-conference on Friday, Russian President Vladimir Putin said that Moscow is not the one fueling an arms race with Washington. The basis for this process was created when the US withdrew from the Anti-Ballistic Missile (ABM) Treaty, forcing Russia to invest in upgrading its military potential.
"That was not our idea, we had to meet the challenge. I would like to stress that … we will never spend the amounts we cannot afford should we be involved in an arms race," the Russian president stressed.
Putin added that Russia was acting in strict accordance with all international commitments, including the New Strategic Arms Reduction Treaty (START).
Hartmann underscored that Putin's remark once again proved that Russia is modernizing its military capabilities in response to NATO's policy.
"It's absolutely clear that multiple efforts by NATO in recent years have been aimed at ending disarmament agreements. The US also violates international treaties by building a missile defense [in Europe]," the expert told Sputnik German.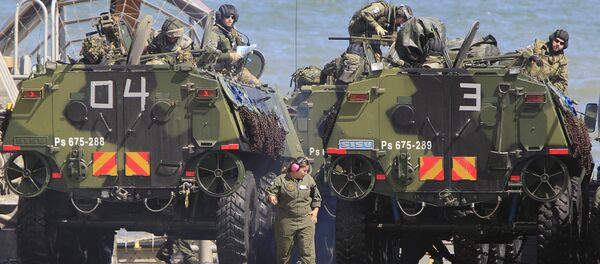 22 December 2016, 05:48 GMT
Earlier this week, Putin said that Russia is now "stronger than any potential aggressor."
According to Hartmann, Putin's message was no to say that Russia has the strongest military in the world, but a "warning" against any type of aggression.
"The US president [Barack Obama] advocates for a world free of nuclear weapons, but in fact there has been a nuclear modernization underway in NATO's European countries, including in Germany. There is simply no explanation to what the US and NATO are doing," the expert pointed out.
According to French historian and journalist Laurent Henninger, the US is responsible for the current attempts to start a new global arms race.
"They [the Americans] want to start a new arms race. This is what the US defense industry wants. Now, they're doing what they did during Ronald Raegan's presidency. They want a new arms race [against Moscow]. Putin knows that and he refuses to play this game," Henninger told Sputnik France.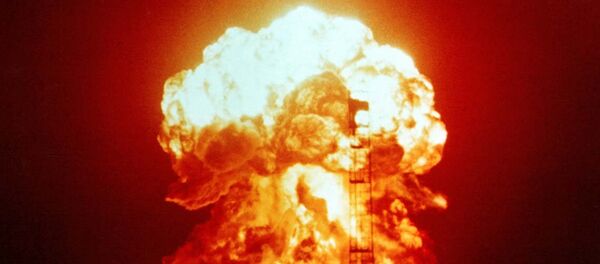 24 December 2016, 03:26 GMT
According to Russian senator Alexei Pushkov, Vladimir Putin gave a signal to the US that Washington's withdrawal from the ABM Treaty leads to instability within the global security system.
"The Russian president has given a signal to Washington that Russia has a negative attitude to this situation, Vladimir Putin drew attention of [US President-elect Donald] Trump that the US withdrawal from the ABM creates instability in the world," Pushkov told RIA Novosti.
The issue of anti-ballistic missile deployment remains one of the most complicated in relations between Moscow and Washington. In December 2002, the US announced it would unilaterally withdraw from the ABM Treaty with the Soviet Union. Signed in 1972, the agreement barred the parties from deploying anti-ballistic missile systems that could cover their entire territories or providing a base for such defense systems.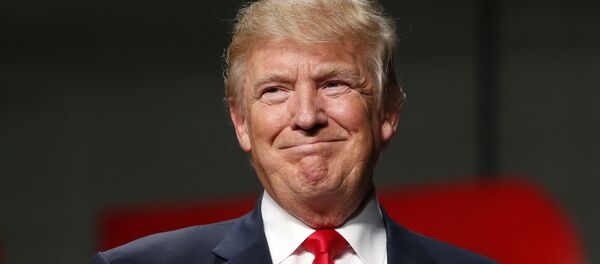 23 December 2016, 12:56 GMT
At the press conference, President Putin also touched upon Russia's military modernization program.
Russia will never spend the amounts it cannot afford should it be involved in an arms race, as the country is doing the utmost to have 70 percent of modern weapons by 2021, he said.
"I would like to stress that it is very important for our internal, domestic politics use, we will never spend the amounts we cannot afford should we be involved in an arms race," he added.
The Russian president also commented on a recent call by US President-elect Donald Trump to reinforce US nuclear capabilities and its military.
On Thursday, Trump wrote on his Twitter account that the US had to "greatly strengthen and expand its nuclear capability until such time as the world comes to its senses regarding nukes."
The United States must greatly strengthen and expand its nuclear capability until such time as the world comes to its senses regarding nukes

— Donald J. Trump (@realDonaldTrump) 22 декабря 2016 г.
​"As for President-elect of the Unites States Donald Trump [and his comment on nuclear enhancement], there is nothing new. During his election campaign, he spoke about the necessity to strengthen US nuclear capabilities, its army, this is not surprising," Putin said.
Never miss a story again — sign up to our Telegram channel and we'll keep you up to speed!