Social media being cheap, inconspicuous and effective contributes to the business of illegal conductors or guides. Through instant messaging or by using pages of travel agencies these people spare no expense in choosing how to send as many migrants as possible to Europe.
François Genemme, said that these guides use two methods for organizing such tours: word of mouth and looking for people through social networks, either via Facebook or WhatsApp, where the guides can find a lot of customers.
"As soon as the group is recruited a boat can be rented. These conductors introduce themselves as travel agents and indeed on social networks some of them are often quite well known. It is not hard to find such a group. What is difficult is to get to the head of the network because often we are talking about very large networks where sufficiently strong hierarchy and many intermediaries are involved," Genemme told Sputnik.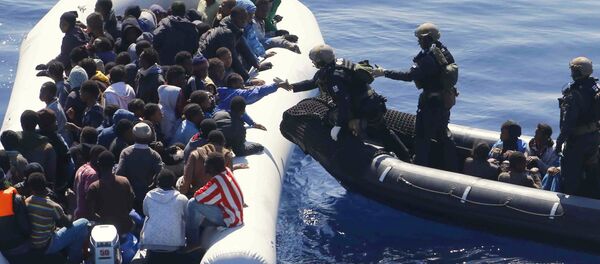 8 December 2016, 20:01 GMT
He further said that there is a
strategy of supply and demand
and the conductors know the commercial side to it and where to look for potential clients and how to find them.
"Of course, all this may seem like a more or less plausible travel agency. Many migrants are aware of the risks and they think they can reduce them if they turn to conductors who are well known, but often that is bait," the director said.
According to Genemme, Europe wants more control over this type of content on the Internet and it wants to cooperate with the providers of the media networks. There is even an information campaign project aimed at discouraging the migrants from using such services.
Genemme commented at whether such measures are actually effective, saying that they are absolutely useless and a waste of taxpayers' money.
"Until access to the European Union remains closed, such a business for the conductors will continue to develop. As long as the political situation remains the same as it is now, in the field of asylum and immigration, any attempt to deal with such conductors be it through cooperation with the social networks, trough the police or military operations in the Mediterranean, all will be completely in vain and useless," the analyst concluded.