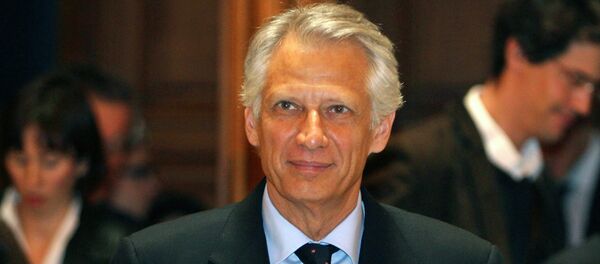 22 December 2016, 10:30 GMT
MOSCOW (Sputnik)
–
France wants to cooperate with Russia to end a civil war in Syria, French Ambassador to Moscow Jean-Maurice Ripert said.
"Certainly, we want to cooperate with Russia, with other partners to end the war. And Moscow agrees with it … We are governed by one and the same aim – to eliminate terrorism," Ripert told RIA Novosti in an interview.
Ripert noted that Moscow and Paris were united in their determination to fight "any form of terrorism". The two countries held negotiations on humanitarian resolution adopted by the UN Security Council, Ripert added.
On December 19, the UN Security Council adopted a draft resolution on monitoring evacuations in Syrian Aleppo after it held extensive consultations the day before. The resolution in based on the French and Russian proposals regarding best ways to implement and monitor evacuations on the ground.
Syria has been in a state of civil war since 2011, with government forces fighting against numerous opposition and terrorist groups, such as the Jabhat Fatah al Sham and the Daesh, both outlawed in Russia.
France will offer the United Nations a list of potential sanctions to be imposed on those behind chemical weapons use in Syria following its thorough investigation, Jean-Maurice Ripert said.
"We want the United Nations to plan to impose sanctions on those responsible for the use of chemical weapons," Ripert told RIA Novosti, adding that France would offer "our partners in the UN Security Council the possibility of adopting certain measures on the results of the investigation."
The UN mission to investigate the use of chemical substances for military purposes in Syria was formed on November 13. At the moment, experts have presented four reports on the results of the investigation of chemical attacks in Syria.
Never miss a story again — sign up to our Telegram channel and we'll keep you up to speed!