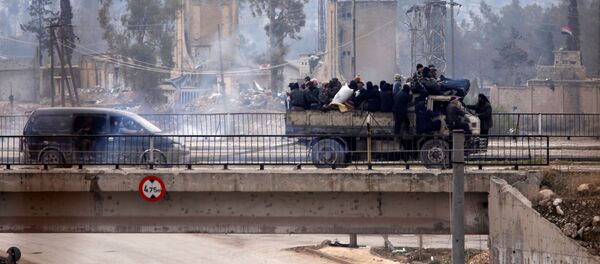 22 December 2016, 13:55 GMT
In an interview with Sputnik, military expert Andrey Koshkin suggested that the information on
Aleppo
which was disclosed by the Russian military may change attitudes toward the so-called moderate Syrian opposition in Washington and among its European allies.
The interview came after Russian Defense Ministry spokesman Maj. Gen. Igor Konashenkov said that mass graves of torture victims have been uncovered in liberated Aleppo in northern Syria.
"Mass burial sites of many dozens [of Syrians] have been found; they had been subjected to brutal torture and [then] murdered. In many cases, body parts are missing; most victims had been shot in the head. And this, it seems, is only the beginning," according to Konashenkov.
© Photo : SANA
Liberated Aleppo. File photo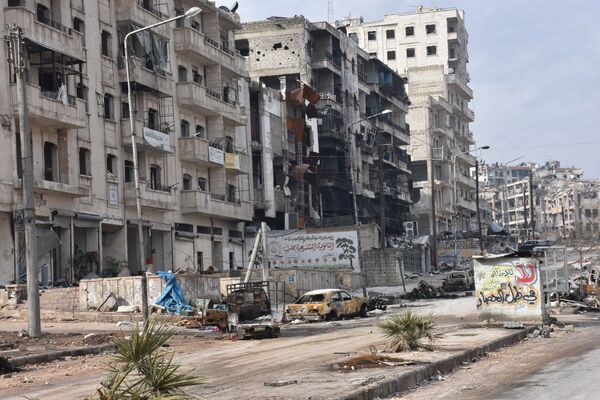 Liberated Aleppo. File photo
He said that the instances are being recorded as serious war crimes and will be given maximum publicity "so that European backers of the so-called opposition in London and Paris are well aware of who their [friends] actually are."
Konashenkov further revealed that militants from the "moderate opposition" in eastern Aleppo had booby-trapped nearly everything with explosives before leaving the city, including toys, streets, entrances to premises, cars and motorcycles.
Thousands of people in #Aleppo are celebrating its liberation and are preparing for Christmas. Yet, Western media makes no mention of that.

— Marcus Papadopoulos (@DrMarcusP) 20 декабря 2016 г.
Commenting on this, Andrey Koshkin said that the US and European countries should review their stance on the moderate Syrian opposition after the publication by Russia of information related to Aleppo.
"After the liberation of Aleppo from militants, unbiased information on the matter has witnessed demand, even in the West," Koshkin said.
He cited the current efforts of "many journalists" to disclose the details of the making of fake videos and information. These were targeted at justifying the actions of Syria's moderate opposition and terrorist organizations, as well as discredit Russia's activity in Syria.
"It was an information and political trap, with both Geneva and the information space repeatedly generating the idea of a 'moderate opposition'. Actually, it was a line aimed at supporting militants," he added.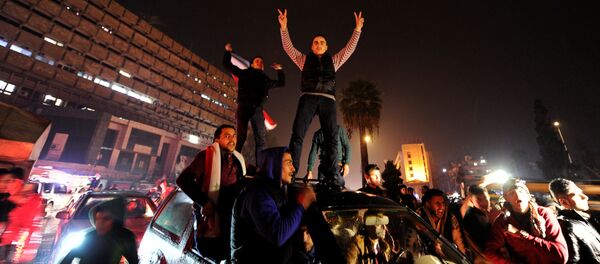 23 December 2016, 13:44 GMT
Konashenkov, meanwhile, added that seven large ammunition depots, enough to arm several infantry battalions, had also been discovered in Aleppo.
On December 22, Syrian government forces assumed full control of Aleppo as the last convoy with militants left the embattled city.
Syrian government forces have been fighting multiple opposition and terrorist groups, including Daesh and Jabhat Fatah al Sham, formerly known as Jabhat al-Nusra, or Nusra Front. The Syrian civil war has been ongoing since 2011.