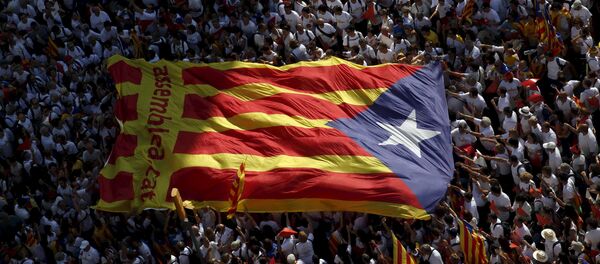 14 December 2016, 14:19 GMT
MOSCOW (Sputnik) — An independence referendum will certainly take place in Catalonia next year, President of autonomous Catalonia region of Spain Carles Puigdemont said.
"2017 will become crucial for Catalonia, because we will be free to choose our future at the legitimate and mandatory referendum … the Catalans will determine the result that will be implemented by the government and the parliament without any delays or excuses," Puigdemont said in the traditional New Year message to the Catalans on Friday.
The Catalan government is open for a dialogue with Madrid, but will not backtrack on its principles, the president stressed.
Earlier on Friday, Spanish Prime Minister Mariano Rajoy said that it was not possible to hold any referendums on the independence of Catalonia.
On October 6, the Parliament of Catalonia approved a resolution stating that the referendum on independence of the autonomous community from Spain should be held no later than September 2017. The Spanish government protested the resolution in Spain's Constitutional Court that suspended it. Puigdemont said that the Catalan authorities would not submit to the Court's decision and would continue preparations for the referendum.
In November 2014, about 80 percent of Catalans who took part in the non-binding referendum on the region's status as part of Spain voted in favor of Catalonia becoming an independent state. Madrid declared the referendum unconstitutional.