It was originally hoped the bank could be saved for €5 billion (US$5.3bn), with €3 billion (US$3.17bn) earmarked for recuperating losses arising from the sale of BMPS' bad loans, and €2 billion (US$2,11bn) for protecting against an increase in "the coverage ratio of the unlikely-to-pay loans."
​However, the European Central Bank on December 27 raised the bank's capital requirements by over three billion euros. 
A spokesperson for the bank justified the rise on the basis the bank now had a far higher capital shortfall, as panicked customers had been withdrawing their deposits hurriedly, following the failure of the bank to secure private backing. BMPS figures indicate customers withdrew around €14 billion (US$14.8bn) in deposit outflows, or 11 percent of the bank's total capital, in the first nine months of 2016.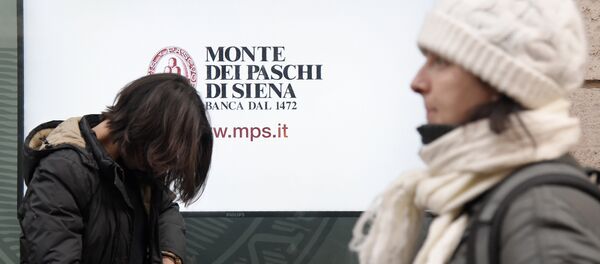 22 December 2016, 16:06 GMT
In a statement, Italy's Central Bank said the public rescue plan's cost had risen from the original 'market solution' which was directed at private investors.
On top of the original figure, the statement explained, the new sum includes a further €1.6 billion (US$1.7bn) for compensating existing investors, €2.2 billion (US$2.32) injected by the ECB. However, Italy's economy minister Pier Carlo Padoan has questioned the figures.
"Although the evaluation cannot be challenged, it would have been useful, if not kind, to have a bit more information from the ECB about the criteria that led to this assessment," he is reported to have said.
Prime Minister Paolo Gentiloni also expressed concerns about the ECB'S announcement, saying during a press conference he was "a bit surprised" to receive the news "out of the blue, on Christmas day."
"It's important that the reasons behind this assessment are shared and that there is a dialogue, because we need to handle this issue together. We will stick to our guns," he added.
Nonetheless, if successful, the deal means BMPS, which was founded in 1472, may finally be delivered from the issues it has struggled with in the years following the calamitous 2007 purchase of Antonveneta bank at twice its estimated value; it has faced an uphill battle to raise capital ever since, and came last in the ECB's continental stress tests this summer.
The ECB concluded BMPS would not survive an economic or financial market crisis. Its share price fell by around 80 percent in 2016.
The ECB has also moved to extend its Italian bank guarantee scheme until next June, which offers liquidity support measures in favor of solvent credit institutions in Italy, and means regardless of circumstances banks will have no difficulty funding their operations and ensuring perpetual deposit access.