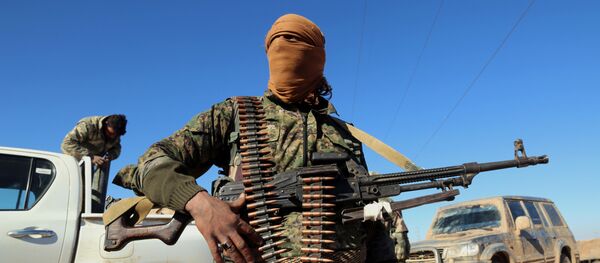 19 November 2016, 06:58 GMT
MOSCOW (Sputnik) — Clashes between Kurdish-led Syrian Democratic Forces (SDF) and the Islamic State (Daesh) militants are underway north of Syria's Raqqa, with 18 Daesh militants being eliminated over the past 24 hours, the SDF said Friday.
"The Daesh militants have attacked the village of Eastern Jaabar, which was earlier liberated by the Syrian Democratic Forces … The attack was repelled. Eighteen militants and one armored vehicles of the Daesh were destroyed," the statement said.
SDF was formed in 2015 as the defense force of northern Syria's de facto autonomous Rojava federation and is supported by the US-led coalition.
Daesh, an extremist organization outlawed in a number of states worldwide, seized control of Raqqa from the Syrian government in January 2014.