Washington has also accused Moscow of harassing and intimidating US diplomats and organizations working in Moscow.
In Moscow, President Vladimir Putin's spokesman Dmitry Peskov slammed Washington's move as an act of "predictable aggression by people who have three weeks left to work" aimed at undermining President-elect Donald Trump, who is taking office on January 20.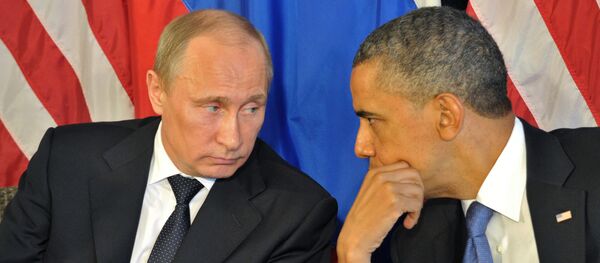 29 December 2016, 18:59 GMT
Peskov added that Russia would retaliate against US diplomats working in Russia if Washington went ahead with the expulsion  of Russian embassy and consulate staff.
Promised measures
Accusations of Russia for its alleged meddling in US presidential elections and  hacking into US political institutions have been getting increasingly vocal in Washington.
In October official representatives of the US intelligence community said Russian hackers were behind a series of cyber-attacks on the Democratic Party's websites in a bid to help Donald Trump to get elected.
They failed to provide any tangible proof of these accusations though.
In December President Obama promised that he would release evidence of Russian involvement and slap retaliatory sanctions against Moscow before the end of his second term in the White House.
Sanctions
On December 29, the US Treasury Department ordered sanctions against the head of Russia's Main Intelligence Directorate (GRU) Igor Korobov and three of his top assistants — Vladimir Alexeyev, Igor Kostyukov and Sergei Gizunov. Earlier, another Russian national, Alexei Belan, was put on FBI's list of wanted cyber criminals.
The FBI has promised $3 million for help in the arrest of still another Russian citizen — Yevgeny Bogachev for using cyber-enabled means to allegedly cause misappropriation of funds and personal identifying information.
The US has also introduced sanctions against four other Russian organizations, including the Federal Security Service (FSB), the Professional Association of Data Creation and Processing, the Special Technology Center, and the Data Protection Center.
The sanctions freeze any assets the abovementioned entities and individuals have in the United States, and also ban US companies from doing business with them.
Personae non grata
The 35 Russian diplomats stationed in Washington and San Francisco have been declared personae non grata and have 72 hours to leave the United States.
Access to the two compounds in New York and Maryland, allegedly used for intelligence gathering, will be denied to all Russian officials as of noon on Friday.
US intelligence reports
The FBI and the Department of Homeland Security have released their own reports about alleged Russian hacking into the Democratic Party's servers during the recent presidential campaign.
They also accuse two Russian intelligence groups of staging a series of cyber-attacks on the Democratic Party's servers in 2015 and 2016.
According to these reports, in the summer of hackers allegedly working for Russia's civilian intelligence service sent e-mails with hidden malware to more than 1,000 people working for the US government and political groups in a far-reaching operation to interfere with this year's presidential election.
What is missing in these reports, however, is any tangible proof at all that any such cyber-attacks by "Russian hackers" actually took place.
Obama explains
President Obama said that the sanctions against Russia were introduced in response to alleged "meddling in US presidential elections" and "harassment of US diplomats" – charges flatly denied by Moscow.
"Today, I have ordered a number of actions in response to the Russian government's aggressive harassment of US officials and cyber operations aimed at the U.S. election. These actions follow repeated private and public warnings that we have issued to the Russian government, and are a necessary and appropriate response to efforts to harm US interests in violation of established international norms of behavior."
"All Americans should be alarmed by Russia's actions," Obama wrote, referring to hacks of the Democratic National Committee.
He also cited an "unacceptable level of harassment" of American diplomats by Russian security services and police in Moscow."
"In October, my Administration publicized our assessment that Russia took actions intended to interfere with the US election process.  These data theft and disclosure activities could only have been directed by the highest levels of the Russian government. Moreover, our diplomats have experienced an unacceptable level of harassment in Moscow by Russian security services and police over the last year."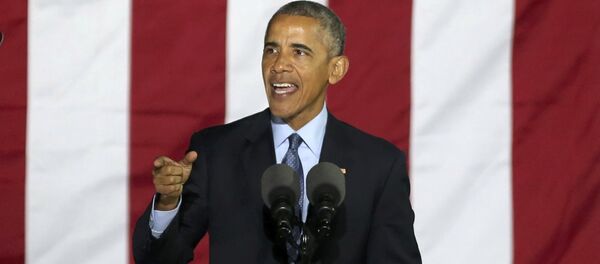 24 December 2016, 14:01 GMT
Obama added that the measures were being used in response "to certain cyber activity that seeks to interfere with or undermine our election processes and institutions, or those of our allies or partners."
State Department complains
For its part, the US State Department too has accused Russia of harassing US diplomats and staging cyber attacks
"The State Department today declared persona non grata 35 Russian officials operating in the United States who were acting in a manner inconsistent with their diplomatic or consular status. The Department took these actions as part of a comprehensive response to Russia's interference in the US election and to a pattern of harassment of our diplomats overseas that has increased over the last four years, including a significant increase in the last 12 months."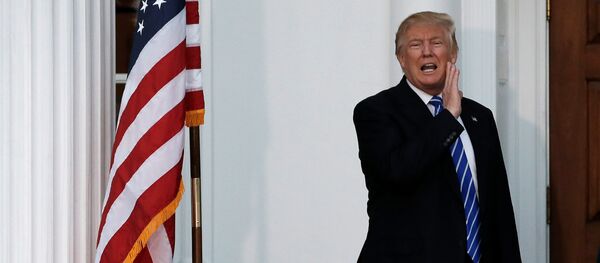 29 December 2016, 08:41 GMT
"This harassment has involved arbitrary police stops, physical assault, and the broadcast on State TV of personal details about our personnel that put them at risk. In addition, the Russian Government has impeded our diplomatic operations by, among other actions: forcing the closure of 28 American corners which hosted cultural programs and English-language teaching; blocking our efforts to begin the construction of a new, safer facility for our Consulate General in St. Petersburg; and rejecting requests to improve perimeter security at the current, outdated facility in St. Petersburg," the State Department said in a statement.
Moscow's adequate response
Commenting on Washington's latest move, President Putin's press secretary Dmitry Peskov categorically dismissed what he described as "unfounded US accusations."
Peskov said that President Putin would respond to the new US sanctions.
"There is no doubt that this adequate and mirror response will make the US side feel very uncomfortable as well."
He described Obama's move as an attempt to "to further harm Russian-American ties, which are at a low point as it is, as well as, obviously, deal a blow on the foreign policy plans of the incoming administration of the President-elect."
Earlier on Thursday, a representative of Donald Trump's transition team called on the Obama Administration to publish "irrefutable proof" of any particular country's involvement in the cyber-attacks made during the recent presidential elections in the United States.
Never miss a story again — sign up to our Telegram channel and we'll keep you up to speed!