The headline of the original story declared, "Russian operation hacked a Vermont utility, showing risk to US electrical grid security, officials say." But the story was a fabrication. The article, which sourced unnamed officials, was rapidly debunked as officials stated that there was no evidence that the Russian government hacked or targeted the utility. Not only was there no penetration of the US power grid by Russia, there was no penetration by anyone.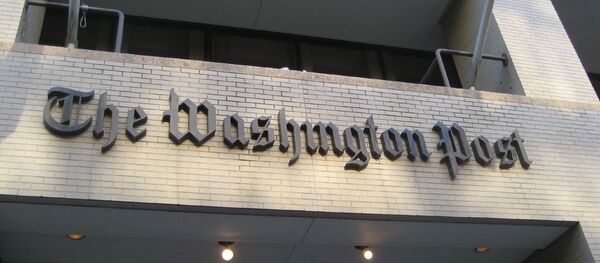 7 December 2016, 23:49 GMT
The story remains active on their website, with its false headline, though an editor's note has been added asserting that "an earlier version of this story incorrectly said that Russian hackers had penetrated the US electric grid. Authorities say there is no indication of that so far. The computer at Burlington Electric that was hacked was not attached to the grid."
According to a thorough debunking of the original story by Glenn Greenwald at The Intercept, The Washington Post failed to contact Burlington Electric before running its sensationalized piece. If The Washington Post had performed even this extremely basic journalistic duty, they would have learned that the laptop in question was not connected to the network that controls the power grid.
"Media reports stating that Burlington Electric was hacked or that the electric grid was breached are false," the company said on their website.
Greenwald also pointed out that malware can be bought and sold by anyone.
"Assuming that Russian-made malware must have been used by Russians is as irrational as finding a Russian-made Kalishnikov AKM rifle at a crime scene and assuming the killer must be Russian," Greenwald wrote.
On Monday, the Washington Post released a followup article, admitting that they were incorrect.

31 December 2016, 00:14 GMT
"The Post initially reported incorrectly that the country's electric grid had been penetrated through a Vermont utility," the new article states. "After Burlington Electric released its statement saying that the potentially compromised laptop had not been connected to the grid, The Post immediately corrected its article and later added an editor's note explaining the change."
Unfortunately, as many have noted, the story is already out there, as dozens of other outlets picked it up and enthusiastically sought to continue anti-Russian hysteria.
Officials, including the governor of Vermont, went so far as to put out tough-guy statements in response to the Post's fabrications.
"Vermonters and all Americans should be both alarmed and outraged that one of the world's leading thugs, Vladimir Putin, has been attempting to hack our electric grid, which we rely upon to support our quality of life, economy, health, and safety," Vermont's Democratic governor, Peter Shumlin, said in a statement. "This episode should highlight the urgent need for our federal government to vigorously pursue and put an end to this sort of Russian meddling."
Maybe the Post is right, and "fake news" is a problem. However, if they really do want to clean up the business of reporting, it appears they should start in their own newsroom.