MOSCOW (Sputnik) — The police operation took place in the western region of Izmir, the Hurriyet newspaper reported on Wednesday.
Other reports said Central Asians and Syrians were among those detained, with a number of these living in the same house as the New Year's Eve terrorist attack perpetrator.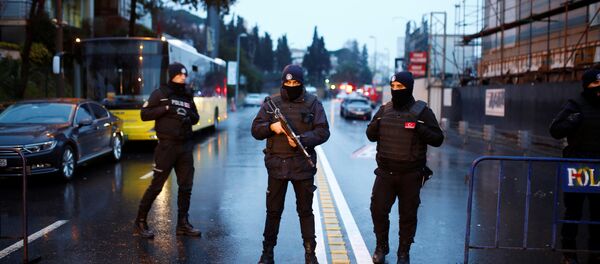 3 January 2017, 12:33 GMT
Earlier in the day, Turkish media said, citing security sources, that the assailant was an ethnic Uyghur Chinese Muslim who entered Turkey from Syria alongside his family to avoid attracting attention.
Turkish Foreign Minister Mevlut Cavusoglu later stated that the identity of the attacker had been established.
The Reina nightclub on Istanbul's European side was attacked during New Year's Eve celebrations by a man who, according to witnesses, was talking in Arabic. The attacker is said to have opened fire from a Kalashnikov assault rifle.
At least 39 people were killed, including more than 20 foreigners, and almost 70 were injured as a result of the attack. A manhunt is underway. The Daesh terrorist group, outlawed in many countries, including Russia, has taken responsibility for the attack.
Never miss a story again — sign up to our Telegram channel and we'll keep you up to speed!