After Democrats lost the election to George W. Bush in 2000, staffers of the incoming administration complained that Bill Clinton's employees had removed all W's from computer keyboards in the White House.

2 January 2017, 04:38 GMT
At the time, the petty prank was major headline news, as such expressions of unprecedented disdain between incoming and outgoing administrations are uncommon, even for Washington political elites.
Looking back, the keyboard stunt seems like friendly teasing, compared to the current actions of the Obama administration. Computer keyboards are easily replaced, while screwing up relations between the two major nuclear superpowers, who the President-elect has expressed interest in bettering relations with, not so much.
The expulsion of 35 Russian diplomats and their family members by Obama, just weeks before leaving office, was heralded in the mainstream media as 'response to attacking our democracy.' What was (and still is) absent from those reports was any proof of an 'attack.' Technical experts laughed at "evidence" provided by the White House, independent journalists reminded the nation about the Iraq WMD lies that led the US into war, while Trump has refused to lash out at Russia, despite pressure from both major parties and their media bullhorns.
"To the degree you can foul the well, to the degree you can make Putin even madder and get him to react, the better," former CIA analyst Ray McGovern explained to Loud & Clear on Radio Sputnik. According to McGovern, it was a deliberate provocation, meant to poison relations between the President-elect and his Russian counterpart even before Trump takes office. "Now, Putin is smarter by half. He didn't react — he's being applauded throughout the world."
​McGovern noted that Putin's restraint over the last few years has been "truly remarkable," and stated that the response shows that the Russian leader is a "statesman."
"The real challenge will be to the intelligence community to come up with 'evidence,'" McGovern said of the hacking claims. "If there is none, if Trump is right in saying they are lying to him — they're lying to all of us — then heads will roll. That's partly what John Brennan and his CIA upper management are afraid of. Now, I don't think there is any evidence… whether they can fabricate evidence as they did with respect to WMDs, forgeries for example, on yellowcake from Africa — whether they can do that in three weeks, they're probably already working on it."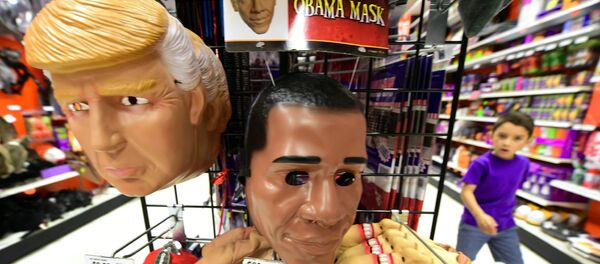 1 January 2017, 17:50 GMT
McGovern pointed out that Senators Lindsey Graham and John McCain, who are currently leading the charge for war with Russia, alongside the Democrats, were also insistent that there was "no doubt" about the WMDs — even though there was then, too, no evidence. McGovern stated that those pushing for war should be embarrassed, "if they have any consciences at all," after the consequences of their previous faulty intelligence.
Unlike Russia, Israel is not reacting kindly to Obama's last minute escapades. Currently, Israel is lashing out at the White House for the latter's role in the passing of a UN Security Council resolution harshly condemning Israel's settlements in Palestinian territories.
Israeli Prime Minister Benjamin Netanyahu has made no secret of his outrage at Obama, and asserted that the White House was behind the resolution. Further, Netanyahu says that he will prove his claim when Trump takes office, to seemingly attempt to tarnish the reputation of Obama.
In another shockingly bold last-minute effort, Obama eased restrictions on arms shipments to Syrian jihadists.
"At the start of December, the president issued a memorandum waiving restrictions on the provision of US weapons and equipment to militants in Syria. Observers warned repeatedly that advanced US weapons could easily fall into the hands of jihadist extremists, but to no avail," Sputnik News previously reported. "President-elect Trump, who pledged to conduct a campaign against the terrorists in partnership with Russia, will now have a mess to clean up on US Syria policy before any negotiations on a joint anti-terror campaign can even begin."
So, as the "peaceful transition of power," is meant to be underway and Trump repeatedly vows to work with other nations to counter terrorism and improve global relations, President Obama has increased the threat of attacks by Syrian Jihadists, snubbed the allied nation of Israel, and attempted to dramatically increase tensions with Russia.
Unfortunately, this petulant and aggressive behavior in the twilight of Obama's presidency, seemingly designed solely to sabotage his successor, will lead to Americans suffering in the long run.
Thanks, Obama.