On Wednesday, Turkish President Recep Tayyip Erdogan confirmed that important progress had been made in efforts to reach a political settlement in Syria. The president's remarks came about a week after the start of a new Syrian ceasefire, to which Russia and Turkey have signed on as guarantors. Meanwhile, the Turkish military against Daesh, launched in August, continues. On Thursday, Turkish media confirmed that 38 jihadists had been killed, including a senior local Daesh figure.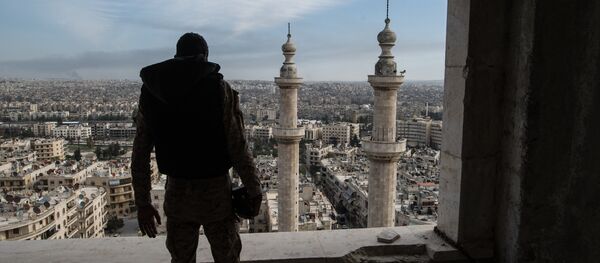 31 December 2016, 13:15 GMT
A year ago, soon after a Turkish Air Force fighter shot down a Russian bomber over Syria without provocation, Russian military officials, politicians, and media began providing
detailed evidence
that Turkey was profiting from the Daesh trade in stolen Syrian oil. Russia
hinted
that Erdogan was been deliberately using jihadist militants, including Daesh, to destabilize Syria and
overthrow
the country's government.
Now, a year later, the picture is fundamentally different. Last week, Moscow and Ankara agreed to become the guarantors of the new ceasefire in Syria. With Turkey's support, it is hoped, the ceasefire could eventually lead to a permanent peaceful settlement. Earlier, in negotiations between the Russian, Iranian and Turkish foreign ministers on December 22, Turkey effectively agreed to abandon its earlier demands that Bashar Assad step down as Syria's president.
For over five years, Turkey has been the main regional backer of Syria's armed opposition, and has served as the key supply route enabling militants to refill their ranks, and replenish their weapons stocks. Ankara's recent agreement to negotiate on a settlement indicates that a serious about-face to the country's previous strategy has taken place.
What was it that caused this dramatic turnaround? According to independent political analyst and Middle East expert Thierry Meyssan, there are several important factors at play, and it's not just about the Syrian government's dramatic recent victory in Aleppo. According to the expert, Ankara's break with Washington, the perceived danger of Kurdish separatism, and Sunni fundamentalist militants' threat to Turkey itself are all key considerations to take into account.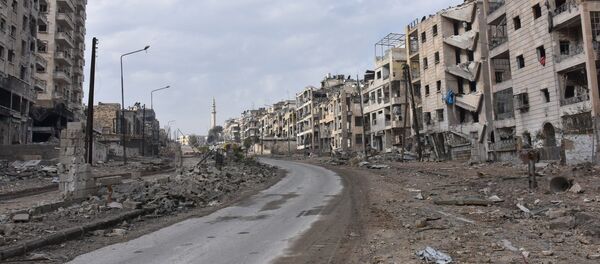 28 December 2016, 07:59 GMT
In his
article
, published in the foreign affairs analysis website Voltaire Network, Meyssan recalled that until very recently, Ankara was widely considered the "patron of international jihadism." In Syria, he recalled, Turkey had profited in the Daesh trade in stolen oil and Syrian antiquities, and served as a conveyor belt for Saudi, Qatari and NATO-country weapons pouring into Syria to arm the jihadists.
Trouble with the US-Turkish Partnership
But since then, the analyst noted, several important factors have forced Ankara to change its policy. For starters, he explained, the relationship between Washington and Ankara has soured in recent years, beginning in 2013 amid the Gezi Parks protests in Istanbul and culminating in the July 2016 coup attempt. Meyssan suspects the latter to have been a hastily organized CIA-supported effort by exiled Turkish businessman and Islamist preacher Fethullah Gulen and his followers to oust and/or kill Erdogan.
And things have only gone downhill from there. The latest episode in the Turkish-US drama was sparked last week, Meyssan noted, after Erdogan directly accused the US of providing support for Daesh, and the Syrian Kurdish militia group YPG, whom the Turkish president also labeled terrorists.
© Sputnik
Erdogan's Blame Game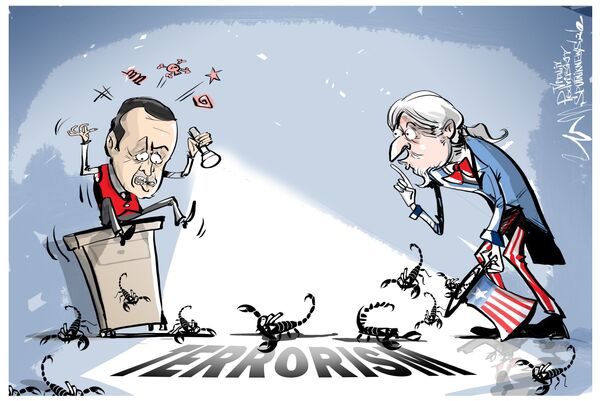 Erdogan's Blame Game
Syria's Allies Save the Day
The second factor influencing Ankara's apparent change of heart was Hezbollah and Russia's intervention in the Syrian conflict. According to Meyssan, this crucial support for Damascus fundamentally "turned the fortunes of war."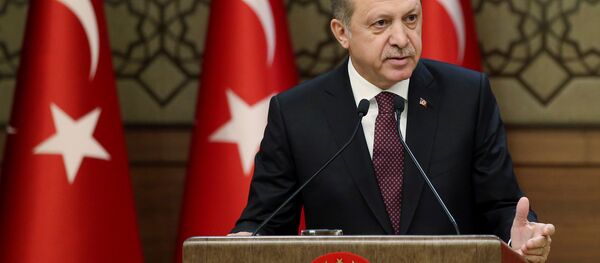 29 December 2016, 20:01 GMT
"From this moment on," the analyst stressed, "the gigantic coalition of the 'Friends of Syria'" (including the US and its European allies, Turkey and the Gulf States) not only "lost a lot of the territory they had conquered, [but] encountered increasing difficulty in recruiting new mercenaries. Thousands of jihadists deserted the battlefield and fled to Turkey."
You Reap What You Sow
And that is where the third problem lies, according to Meyssan. This diverse, ragtag coalition of jihadi extremists, whose numbers have swollen up to 250,000 fighters, would cause absolute chaos if they were all displaced into Turkey. They want a terrorist state, or caliphate, of their own – something that would be unconscionable for Ankara to allow on its territory.
© REUTERS / Omar Sanadiki
Evacuees from rebel-held eastern Aleppo ride on pick-up trucks along the government-held area of al-Ramousah bridge, Syria December 16, 2016.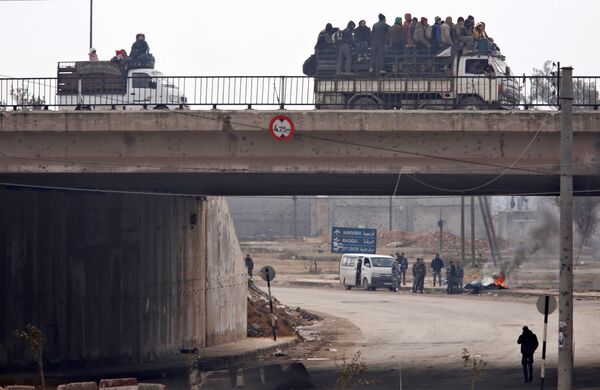 Evacuees from rebel-held eastern Aleppo ride on pick-up trucks along the government-held area of al-Ramousah bridge, Syria December 16, 2016.
Therefore, Meyssan noted, in order to deal with these problems, as well as the ever-present dangers stemming from Turkish Kurdish separatism, Erdogan's interest has been to search for a new powerful ally to replace Washington. "He was the ally of the United States when Washington's influence was at its height, and presently hopes to become the ally of Russia, [which is] now the leading conventional military power in the world," the analyst argued. This, he noted, would help the Turkish leader to prepare for the waves of jihadists who may arrive and settle in his country.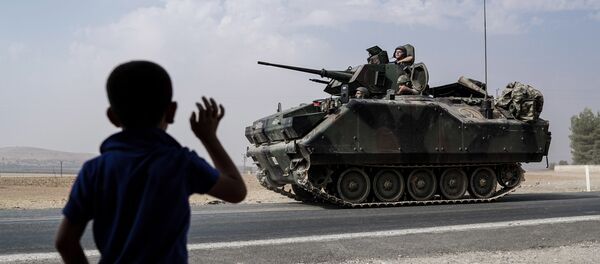 5 January 2017, 07:44 GMT
There are several major obstacles that Ankara will have to overcome to succeed with its dramatic about-face in Russia's direction, the expert said, including the fact that Turkey is a member of NATO, "an organization that on-one has ever been able to leave. Perhaps at first he could leave the integrated military command, as France did in 1966," Meyssan suggested.
But the bigger problem is about what can actually be done with the tens of thousands of jihadist militants, "perhaps thousands of [whom] could soon flood into Turkey and destabilize it," the analyst stressed. He added that it was actually difficult to contemplate how Ankara can actually successfully "escape its responsibilities" for a policy of backing Islamist fanatics who have systematically destroyed Syria for over six years. "The ceasefire agreement, the text of which is deliberately imprecise, leaves open the possibility of an attack against them in Idlib," he noted. Otherwise, it remains unclear what will happen if more militants continue to flee Syria into Turkey.
Change Isn't Easy
Ultimately, Meyssan stressed, "Turkey's about-face, if it is to be confirmed in the months to come, will provoke a chain-reaction of consequences." This includes striking a major blow to the "artificial inter-Muslim conflict" between Shia and Sunni that has long been supported by Washington, and partnering not just with Russia, but with Hezbollah and Iran, to fight the jihadist threat.
As for Russia, the analyst noted that Moscow's own recent U-turn in policy toward Turkey comes from President Putin's preference for "transforming enemies into allies," instead of seeing one enemy leader fall only to be replaced by another, resulting in a never-ending conflict. It does not mean that Moscow has forgotten about their strategic partners' earlier policies and decisions.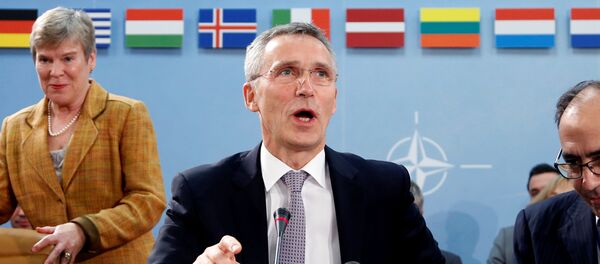 2 January 2017, 17:20 GMT
Meyssan is not the only one to point to the significance of this shift in Turkish policy. Last week, French television journalist Michelle Scott
explained
that Turkey's about-face also comes down to the fact that in five years of war against Syria, Ankara has made almost no progress in the effort to oust Assad. The so-called moderate opposition has been radicalized, Iran dramatically escalated its influence in the region, and the US-led coalition eventually began openly cooperating with Syrian Kurds, which Ankara sees as a threat.
Erdogan, Scott said, was soon left isolated, and the idea of a joint struggle against a common terrorist threat became the occasion for rapprochement with Moscow. Ultimately, the journalist stressed, Turkey's new policy will force Erdogan to 'cast the so-called Syrian opposition adrift at sea', thus formally ending Turkey's destructive involvement in the Syrian war. This policy U-turn, combined with an end to war in Syria, will then result in a new regional balance of power taking shape, Scott concluded.