MOSCOW (Sputnik) — Earlier in the day, Russia's planned reduction of its military presence in Syria has begun, led by the Admiral Kuznetsov, according to chief of the Russian Armed Forces General Staff Gen. Valery Gerasimov.
"The decision to begin the transfer of a fleet carrier group of the Russian Armed Forces led by the Admiral Kuznetsov from the Mediterranean Sea to Severomorsk [Russian northern military base] is an act of Russia's good will within the framework of the ceasefire regime," Viktor Ozerov, the head of the Russian parliamentary defense and security committee, told RIA Novosti.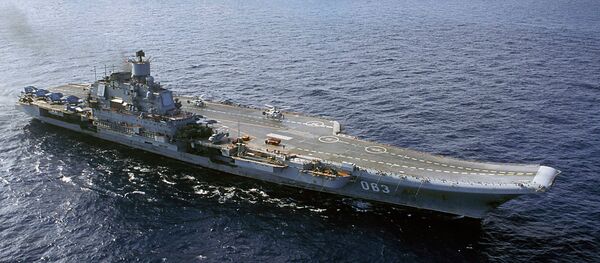 6 January 2017, 08:44 GMT
In case of emergency, Russia could always mobilize its long-range aircraft or launch missiles from the Caspian Sea, he said. Russian Kant Airbase in Kyrgyzstan may also be used, the lawmaker added.
The decision to cut Russia's military presence in Syria was made by Russian President Vladimir Putin at the recommendation of Defense Minister Sergei Shoigu on December 29.
Russia and Turkey are guarantors of a nationwide Syrian ceasefire that came into force last week, and has been holding up in general, despite continued reports of violations. The UN Security Council passed a resolution last Saturday supporting the effort.
Never miss a story again — sign up to our Telegram channel and we'll keep you up to speed!