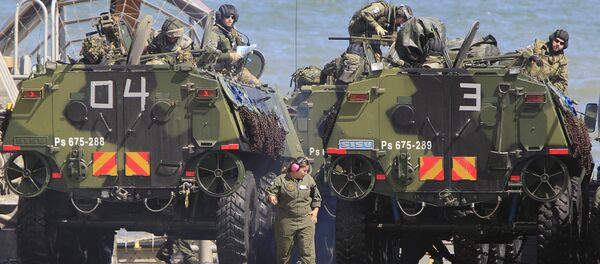 22 December 2016, 05:48 GMT
The US army is unloading 87 tanks and other military equipment including jeeps and howitzers from three transport ships at the German port of Bremerhaven, Germany's
Radio Bremen reported
on Friday.
The equipment is being transported to Poland by rail, from where it will be distributed across the Baltic States, Bulgaria and Romania. A spokesman for the German Bundeswehr in Brandenburg said that a total 900 wagons would be required to transport the freight by rail, with a total length of 14 kilometers.
The extra military presence is part of the Atlantic Resolve operation launched by the US military in April 2014, in the aftermath of the US-backed Maidan coup d'etat in Ukraine. 
The US has used claims of Russian military interference in Ukraine as the pretext for its military build-up in Eastern Europe, which Russia regards as a security threat.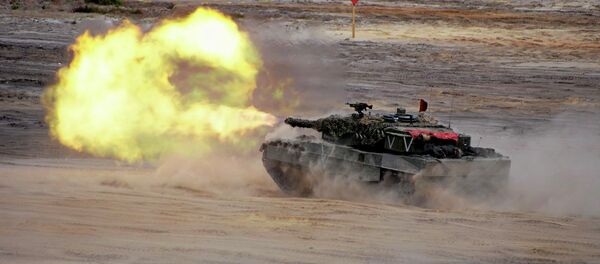 5 January 2017, 20:42 GMT
In the past ten years NATO's
presence along Russia's western borders
 has grown eightfold, Russian Defense Minister
Sergei Shoigu said
last month.
Shoigu also referred to NATO military exercises carried out close to the Russian border, including the Anaconda war game which took place last June, the largest military exercise in eastern Europe since the end of the Cold War.
In July NATO held a summit in Warsaw, where defense ministers finalized arrangements to deploy multinational NATO battalions to Estonia, Latvia, Lithuania and Poland, totaling around 4,000 troops.
The summit also confirmed the deployment of anti-ballistic missile systems and radars in Romania and Poland and confirmed that the United States would deploy 1,000 troops in Poland, allegedly to defend it against claimed Russian "aggression."
Last month commander of US Army Europe Ben Hodges told the German magazine Der Spiegel that the US will continue to pursue military buildup in Europe in spite of the election of Donald Trump, who pledged to end the US commitment to European defense during his campaign.
"We will remain here, and we will remain the leader of NATO," he said.
Hodges added that Democratic and Republican members of Congress had written to Trump urging him to maintain the US presence in Europe.
"They (the senators) want the US to remain in Europe, they want the deterrent against Russia," the commander said.
Never miss a story again — sign up to our Telegram channel and we'll keep you up to speed!