"I do not expect that Incirlik is going to be closed, but Turkey is using this as an instrument to [put] pressure on America [in order] to get more support to fight Daesh and also, if you want, to prevent Americans [from providing] weapons to terrorists in Syria, including PYD and other related groups," he said.
The Democratic Union Party (PYD), a Kurdish political party active in northern Syria, and its armed wing, known as the People's Protection Units (YPG) have been instrumental in Washington's efforts aimed at pushing Daesh out of Syria, but Ankara views them as terrorist groups affiliated with the Turkey-based Kurdistan Workers' Party (PKK). Turkish authorities have been in a decades-long fight against the PKK, with tensions escalating in mid-2015.
Dr. Bagci, professor and chair of the international relations department at Ankara's Middle East Technical University, suggested that recent comments with regard to Incirlik could have been made due to the fact that Turkey was "unhappy" that the US-led coalition did not provide sufficient support to its anti-Daesh operation in northern Syria.
President Recep Tayyip Erdogan and "the Turkish government at the moment are disappointed in the American policy, but the government and the president are expecting" that confidence between Ankara and Washington will be reestablished once Donald Trump comes to power," the analyst noted.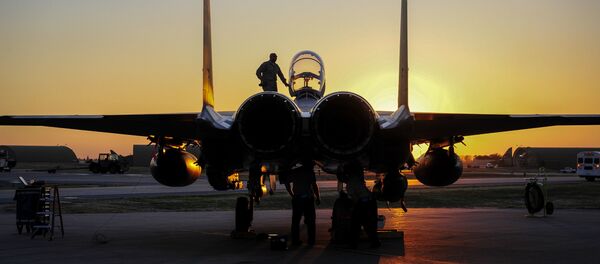 30 December 2016, 10:41 GMT
On Wednesday, Cavusoglu mentioned Incirlik, saying that the Turks wondered why the United States and its allies were using the Incirlik air base if they did not provide air cover for
Operation Euphrates Shield
. Ankara launched the major cross-border offensive to tackle Daesh in northern Syria and to prevent the Syrian Kurds from increasing their presence in the area.
"We allowed not only the US but also other countries' jets to use Incirlik to jointly fight [Daesh]," Cavusoglu said. "If this coalition was formed to fight Daesh, and Turkey, for its part, created the conditions for effectively countering the terrorists, then why doesn't Ankara get relevant support? … "The US is a very important ally for us. We cooperate in every field. But the reality is, there is a confidence crisis in the relationship at the moment."
A day later, presidential spokesman Ibrahim Kalin reiterated that Turkey had the right to close the base, but added that Turkish authorities were not reviewing the issue.