Guy Verhofstadt has long had ambitions to take over one of the major roles of the European Union — the presidency of the European Parliament. His bid is significant in that it comes at a time of enormous crisis within the EU, with immigration and terrorism dominating the agenda.
"Europe is in crisis. From our persistent economic difficulties and the refugee crisis to the multiple terrorist attacks on European soil. Europe always reacts too little, too late," Verhofstadt says in his manifesto.
"Let there be no misunderstanding; the Union of the future will not be a European superstate. It is in fact the opposite. A more effective and more integrated Union will better protect our cherished European diversity: in languages, in cultures, in traditions, in ways of life."
​Verhofstadt is standing for the presidency in an effort to break the long-standing tie-up between the two largest political groups, the European People's Party (EPP) and the Socialists and Democrats (S&D), which have been in "grand coalition" since 2004, agreeing to work together on the work of the parliament in return for sharing the presidency between them.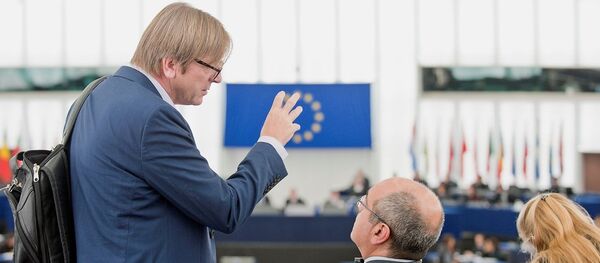 28 December 2016, 15:26 GMT
The president in the first half of the current parliament, which began in 2014, was the S&D's Michael Schulz, whose role would have passed to the EPP group. However, the S&D group president, the Italian politician, Gianni Pittella has put himself forward for the presidency, threatening the collapse of the "grand coalition." 
The EPP group, December 13, voted for another Italian — the former EU Commissioner and one of the 14 vice-presidents of the parliament, Antonio Tajani — to stand for the presidency, which will be voted on, January 17. 
"I am convinced that the ongoing play off between the two big groups is not in the interest of the Parliament nor of the Union. This is the time for a candidate with a proven ability to lead a broad coalition and who can unite the pro-European forces in this house, putting the interest of the European citizens first," Verhofstadt said.
​"We need to break with the uninspired 'grand coalition' that governed the Parliament for too long and instead become the main European policymaker. Citizens expect real solutions from us. This means, among other things, a sizeable border and coastguard, a European antiterror capacity and renewed investments in our economy," he said.
Verhofstadt is the European Parliament's lead negotiator over Brexit and many commentators he will have to stand aside from that role in the event of becoming the parliament's president.