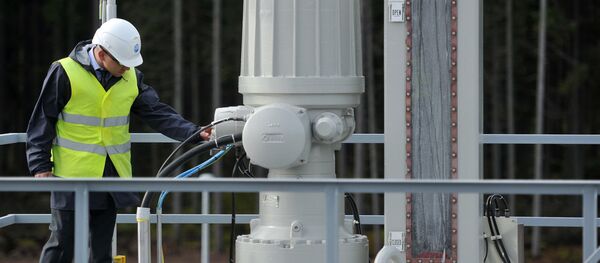 9 January 2017, 11:06 GMT
MOSCOW (Sputnik) — Russian energy giant Gazprom registered the record 621.8 million cubic meters of daily gas export to countries beyond the former Soviet Union (FSU), which is the third record set by the company in 2017, Gazprom's press service said on Monday.
The company underlined that the record was set on Sunday, a day when usually the weekly gas consumption by foreign buyers falls to the minimum rates. The previous record was registered on January 6 and stood at 615.5 million cubic meters, the company added.
For five consecutive days in 2017, from January 4 to 8, the company had been recording a record volume of gas supply via the Nord Stream pipeline of 165.2 million cubic meters daily.
Russia is engaged in constructing the Nord Stream 2 pipeline that aims to deliver 55 billion cubic meters of Russian natural gas a year to the European Union across the Baltic Sea to Germany, bypassing Ukraine. The launch of the pipeline is planned for 2018. Gazprom has a shareholder agreement to extend the existing Nord Stream with partner European energy firms.
Never miss a story again — sign up to our Telegram channel and we'll keep you up to speed!