On January 6, 87 Abrams M1A1 tanks, 20 Paladin artillery vehicles and 136 Bradley fighting vehicles arrived in the German port of Bremerhaven. The United States also plans to deploy 50 Black Hawk, 10 CH-47 Chinook and 24 Apache helicopters, as well as 2,200 personnel. The newly-arrived military equipment will be distributed across Bulgaria, Estonia, Germany, Latvia, Lithuania, Poland and Romania for training, exercises and maintenance.
"From the point of view of the risk of war [this step] increases it because NATO deploying more troops to the Baltic states and Poland will be seen as a threat by Vladimir Putin and he will respond in kind. He has to respond in kind," the analyst said. "I would expect Russia to in fact take measures to put even more troops near the borders with the Baltic states and perhaps more missiles in the Kaliningrad Region. It's a tit for tat," he explained.
McCauley noted that this was a vicious circle, with both sides forced to increase their military presence in the region so as not to appear weak. NATO has beefed up its military presence in Europe, particularly close to Russia's borders since mid-2014. 
The analyst pointed to the timing of the latest deployment.
"The key thing here of course is this: why have American troops been deployed at this moment, in the middle of January 2017? Well of course President-elect Trump is coming to power on January 20 and he said that he wants to improve relations with Russia. President Obama is making this very difficult for him because he expelled 35 Russian diplomats and now he is putting troops into Poland, the Baltic states, Romania and Bulgaria. So Putin and Trump will have to discuss this," he said.
McCauley further noted that both sides do not want tensions to morph into a war, but warned that an armed conflict could be sparked by an accident due to the sheer scale of military presence close to Russia's western borders.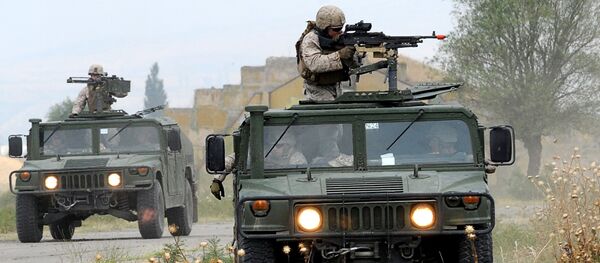 7 January 2017, 17:53 GMT
"The problem is that at present nobody wants a war in Europe," he said. "But unfortunately wars sometimes start out of errors and small mistakes. A small mistake becomes a fire somewhere else and that escalates. That is the real danger. With all this troops in Eastern Europe being deployed and the 300,000 Russian troops in the Western sector and near the Baltic borders, the danger is that an accident could in fact inflame the situation and lead to a response from one side or the other."
McCauley urged Russian President Vladimir Putin and US President-elect Donald Trump to come together and "wind down" these tensions.
"The key thing between Putin and Trump is trust. There is no trust at present between Obama and Putin. They don't respect one another. So therefore the key thing is to develop trust," he said.
Have you heard the news? Sign up to our Telegram channel and we'll keep you up to speed!