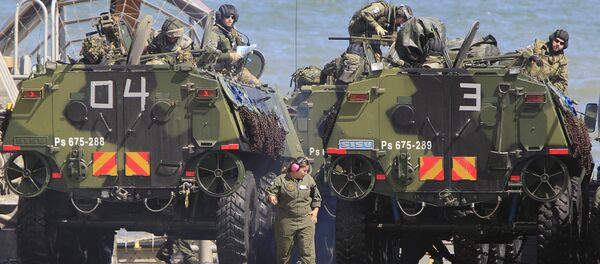 9 January 2017, 18:15 GMT
Almost 1,000 United States soldiers and the first shipment of the equipment for an American tank brigade have arrived in Poland, the Polish Defense Ministry reported Tuesday.
"Almost 1,000 US troops are on our territory today. The first [batch of] equipment has also crossed the Polish border," Ministry Spokesperson Bartlomiej Misiewicz said, as quoted by Polsat TV channel.
According to Misiewicz, the ceremony to welcome the US troops will take place on January 14.
The incoming tank brigade comprises some 4,000 service personnel, 87 tanks, 18 self-propelled Paladin howitzers, 144 Bradley fighting vehicles and hundreds of Humvees.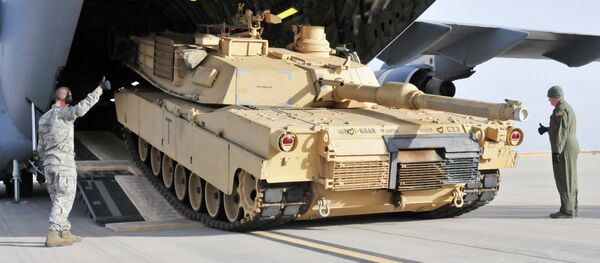 10 January 2017, 09:47 GMT
The equipment was transported to Poland by rail, from where it will be distributed across the Baltic States, Bulgaria and Romania. The extra military presence is part of the Atlantic Resolve operation launched by the US military in April 2014, in the aftermath of the Maidan coup in Ukraine.
In July, NATO held a summit in Warsaw, where defense ministers finalized arrangements to deploy multinational NATO battalions to Estonia, Latvia, Lithuania and Poland, totaling around 4,000 troops.
The summit also confirmed the deployment of anti-ballistic missile systems and radars to Romania and Poland and confirmed that the United States would deploy 1,000 troops in Poland.
Western media reported that this was the biggest deployment of US armored vehicles to Europe since the end of the Cold War.
Such a deployment to NATO's eastern flank is unprecedented since the fall of the USSR, and there are several reasons for this, said Vladimir Kozin, a professor at the Russian Academy of Military Sciences.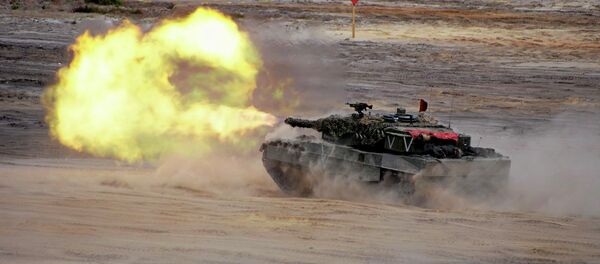 5 January 2017, 20:42 GMT
"According to the German military, some 900 railroad cars will be needed to deliver all this equipment to the deployment sites. But what is the reason? First, [US President Barack] Obama wants to play a mean trick on President-elect Donald Trump who won the election," Kozin
told
Radio Sputnik.
Second, according to the expert, Washington wants to convince its European NATO allies to increase defense spending over two percent of the GDP, which was agreed during a NATO summit in Wales.
"Finally, the US wants to maintain tensions around the world and particularly in Europe. They want to turn the region into another tinderbox ready to ignite. This number one priority," Kozin suggested.
He noted that the US wants to continue the standoff with Russia, and as result, Europe becomes a "prisoner" of this situation.
"The US and NATO plans to increase aerial, anti-submarine, missile defense and intelligence activities with the use of heavy military equipment. In order to justify sanctions, the situation needs to be tense all the time. Europe is becoming a prisoner of this new Cold War initiated by Obama," he concluded.