"Amnesty is deeply worried about the fate of thousands of refugees who are currently trapped on the Greek Islands and many of whom are at risk of freezing to death. This is a result of EU and European government policy and the infamous EU-Turkey deal, because they are refusing to transfer people from the overcrowded inhumane conditions on the islands to mainland Greece, because they are holding on to try and return these people to Turkey," Amnesty EU Head of European Institutions Office and Advocacy Director Iverna McGowan told Sputnik.
​Under the EU-Turkey migrant deal, "irregular migrants" — those refused asylum in Greece — would be returned to Turkey, which the EU is paying to improve refugee camps and conditions. However, the number of returnees has been small amid growing opposition to the scheme.
"We've launched an international action to appeal to the President of the European Commission, Jean-Claude Juncker to use his voice towards other European governments to say: 'you need to forget the EU-Turkey deal, because we have thousands of people in a humanitarian crisis that need to be helped,' " McGovern told Sputnik.
© REUTERS / REUTERS/Alkis Konstantinidis
Snow is gathered under a broken bicycle and a bed frame next to a tent at a refugee camp in Ritsona, northern of Athens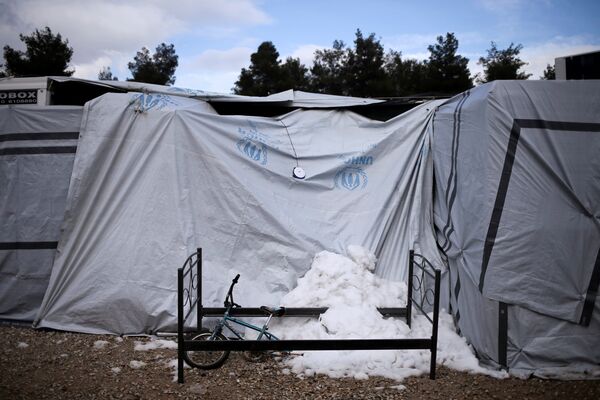 Snow is gathered under a broken bicycle and a bed frame next to a tent at a refugee camp in Ritsona, northern of Athens
©
REUTERS
/ REUTERS/Alkis Konstantinidis
"We're appealing to European leaders to show leadership. The EU-Turkey deal was agreed many months ago, March 2016. I think their presumption at the time was that the returns would be happening quickly, but now we're in a situation where thousands of men, women and children are facing a freezing cold winter in tents that are flimsy and were erected for summer conditions. So you have to take stock of the reality on the ground. Will they wait for people to start to die in large numbers before they take action? We hope, of course not," she added.
'Back to Basics' Over Dignity and Rights
EU Migration Commissioner Dimitris Avramopoulos is on a fact-finding mission to Italy to meet Interior Minister Marco Minniti and Foreign Minister Angelino Alfano over the continuing migrant crisis in Italy and Greece and the slow pace of the proposed relocation of 160,000 refugees from both countries across the EU under a controversial mandatory quota system.
​"Irrespective of the 'mandatory' question, they have already agreed at European Council level that those 160,000 relocation places will be offered. That was agreed at European level. The rate at which that is happening is too slow. Leaving the politics aside, it needs to be swiftly implemented.
"Amnesty does not take a position on whether it should be an EU scheme or a national initiative, but there is a need for people's rights to be realized through relocation and resettlement. In 2015 and 2016, the approach of European governments and the EU has not been successful in capturing the imagination of the European public and what's so worrying is that we need leadership at this moment in time.
"If the European project is to keep going, it needs to go back to basics and find that vision for a Europe that respects dignity and the rights of people first," she told Sputnik.