Clouds are gathering on China's horizon: Donald Trump's rhetoric and controversial moves toward Beijing apparently indicate that the US President-elect is determined to shatter the established status quo.
Speaking to Radio Sputnik's correspondent Denis Bolotsky, Jeffrey Sachs, American economist and director of The Earth Institute at Columbia University shared his concerns regarding the possibility of the US' economic confrontation with China under Trump.
According to Sachs, it is possible that the next US administration will adopt a more realistic foreign strategy and fix the problems created by their predecessors. However, it is equally possible that Trump will start "new problems."
"Of course it's possible to fix these matters by a better, more realistic US strategy. What I hope is that he [Donald Trump] doesn't start new problems, for example, economic confrontation with China which seems to be one of the things possibly on his agenda," Sachs told Radio Sputnik.
"That would add just another headache on top of our all existing headaches," he added.
"As long as foreign policy is seen as us versus the others rather than as an opportunity for cooperation we will be falling short," Sachs stressed.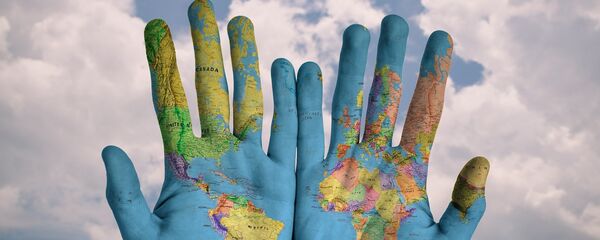 12 January 2017, 06:45 GMT
However, "cooperation is hard work," according to the American economist.
"In some areas, yes, he [Trump] said it about improved relations with Russia which I very much want and hope for; but in other areas like Mexico or China it's been rather confrontational and I don't want to see one set of problems replaced by a new set of headaches," Sachs underscored.
For his part, Pavel Rodkin, Associate Professor at the National Research University High School of Economics (NRU-HSE) and member of Rossiya Segodnya's Zinoviev Club, believes that the US-China economic confrontation is inevitable.
"The crisis of globalization and US hegemony will inevitably lead to the exhaustion of 'Chimerica' — a more than thirty years of economic partnership between the US and China. The transition to a new model of relations [between the US] and China is becoming the leitmotif of Donald Trump's presidency," Rodkin writes in his op-ed for RIA Novosti.
However, the US' potential shift in foreign policy is unlikely to catch Beijing off guard, according to the Russian academic.
The Chinese leadership prepares itself for upcoming changes in the world's political landscape.
© AFP 2023 / Mark Ralston
Police patrol outside the Great Hall of the People before the opening session at the 11th National Committee of the Chinese People's Political Consultative Conference (CPPCC) in Beijing on March 3, 2012.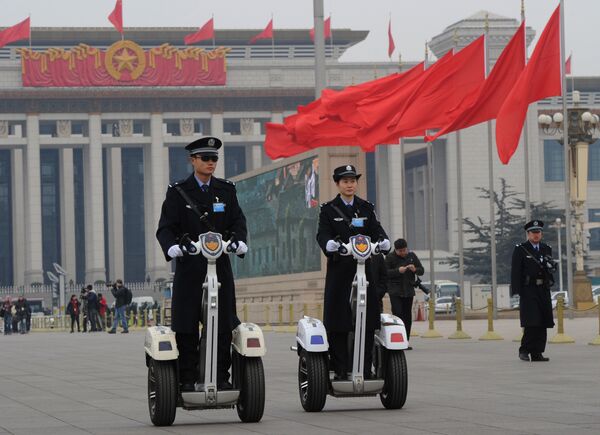 Police patrol outside the Great Hall of the People before the opening session at the 11th National Committee of the Chinese People's Political Consultative Conference (CPPCC) in Beijing on March 3, 2012.
"China has started preparing to the coming reformatting of the world, not only economically and technologically, but also ideologically," he pointed out, referring to Xi Jinping's 2013 statement of inviolability of China's Socialist doctrine and its fundamental principles.
Rodkin calls attention to the fact that China regards itself as a powerful global player. He referred to Xi's 13th Five-year Outline Plan for Economic and Social Development 2016-2020 which de facto promotes a new development concept and places strong emphasis on innovation.
In addition, the plan envisages reconsidering of the world's "economic map" and putting forward a new concept of global management, the Russian academic noted.
In other words, China positions itself as a viable alternative to the "Western neo-liberal capitalism," Rodkin emphasized.
While the "Chimerica" project is falling apart at the seams it is possible that Russia will have to choose between two global systems, the Russian academic suggested.
The question then arises, what role Russia will play in the future competition between China and the US.
"America really wants to use Russia in its fight against China," Rodkin assumed, "I believe that the US will make attempts to pit Russia and China one against another… And that could make Russia an easy prey in the unfolding new great power game."
Have you heard the news? Sign up to our Telegram channel and we'll keep you up to speed!