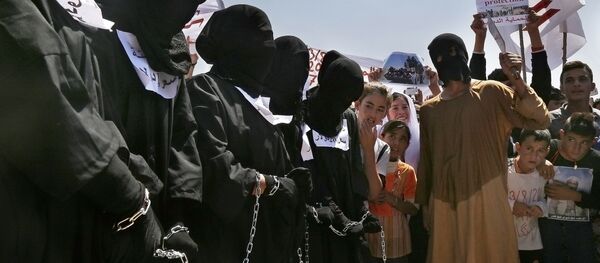 12 January 2017, 13:02 GMT
Nadia Murad is a 20-year-old Yazidi woman and a former Daesh sex slave who now works as a UN goodwill ambassador trying to raise awareness about slavery.
Talal Gaskani, press secretary of the Yazidi human rights organization "Yazda", told Sputnik that after arriving to Spain to take part in a conference, Murad received an invitation from FC Barcelona.
Club president Josep Maria Bartomeu and other team players, including the legendary Lionel Messi, personally presented Murad with an official FC Barcelona t-shirt Number 10 with her name on it.
​Bartolomeo also thanked her for raising awareness about the Yazidi genocide perpetrated by Daesh in northern Iraq in Mosul.
During her stay in Barcelona, Murad met with local officials and activists in order to discuss the plight of Yazidi women kept as slaves by Daesh terrorists and to help bring this matter to the attention of the Spanish government.
​Hopefully Murad's meeting with one of the most famous football teams in the world will help raise awareness about the plight of Yazidis and the Daesh slave markets.
Nadia Murad was forced into sexual slavery in 2014 when her family was murdered by Daesh terrorists. She spent about three months as a slave, being sold several times and subjected to sexual violence – a fate that unfortunately befell many young Yazidi women in August 2014.
In 2016 Nadia Murad became a UN goodwill ambassador.