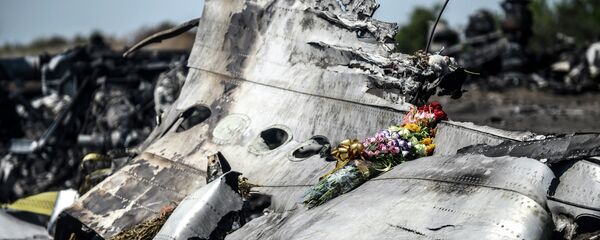 10 January 2017, 12:18 GMT
MOSCOW (Sputnik) – "The forensic investigation into items taken out of Ukraine by Dutch journalist Michel Spekkers which were possibly related to the MH17 crash has shown that one of the items is a fragment of human bone. The other items were also investigated and found not to be relevant to the criminal investigation," the Dutch public prosecutor's office said in a Friday statement.
According to the release, DNA testing conducted by the Netherlands Forensic Institute revealed that the bone fragment was from a passenger of the MH17 plane, who was identified in 2014.
"The journalist refused to cooperate at all in making photo and video material of the crash site available. That material is important with a view to finding the precise location where the items were taken from. In view of the journalist's uncooperative attitude the police had no other option than to seize all the data carriers, with permission from the Public Prosecution Service," the Friday statement says.
On Tuesday, freelance journalist Stefan Beck who was travelling with Spekkers wrote in his blog that he thought that the demand of Amsterdam police to hand over the material collected at the site of the MH17 plane crash in Ukraine's southeast was a suggestion, not an order.
On Friday, Beck told RIA Novosti that most of the photo material, including parts of it which capture the detention of Spekkers at the airport in Amsterdam will be destroyed.
Spekkers had his luggage confiscated last Saturday upon flying back to Amsterdam after filming the MH17 crash site.
According to Beck, the two journalists did not try to hide the material they had brought to the Netherlands from the authorities and that they were mostly worried about the safety of the Donbass residents they had interviewed.
Beck has stressed that the fact that there are still human remains at the MH17 crash site proves that the investigation into the accident was not conducted properly and more work needs to be done.
The Malaysia Airlines aircraft crashed on July 17, 2014 in eastern Ukraine while flying to Kuala Lumpur from Amsterdam. All 298 passengers and crew aboard the plane died in the crash.
The Joint Investigation Team (JIT), which comprises Australia, the Netherlands, Ukraine, Belgium and Malaysia, tasked with probing the crash said that the MH17 airliner was allegedly downed by a Buk missile system with a missile purportedly launched from the territory controlled by Donbass militias.
Moscow rejected the findings, calling the report "biased and politically motivated." The Russian Defense Ministry questioned the conclusions of the investigators, saying that no Russian missile systems, including Buk, had ever crossed the Russian-Ukrainian border.