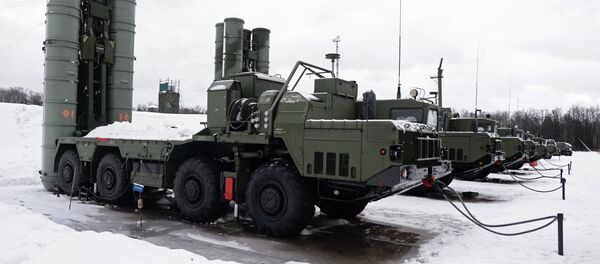 11 January 2017, 07:18 GMT
MOSCOW (Sputnik)
–
The ministry's press service said Thursday that four sets of the air defense systems were expected to equip the Aerospace Forces in 2017. This year's first regiment armed with S-400 entered combat duty in Moscow Region.
"The soldiers will soon begin the planned training of operating and applying the new technology. The systems will be part of Northwest Russia's air defense system," Western Military District spokesman Col. Igor Muginov said.
Russia's anti-aircraft missile regiment armed with the S-400 Triumf system has entered combat duty in Crimea, the Southern Military District said Friday.
"The regiment's personnel successfully passed retraining, and training missile launches took place in August last year as part of Kavkaz-2016 strategic command-and-staff exercise," the district's press service said.
It said the S-400s equipped the Guards Air Defense Missile Regiment of Sevastopol and Feodosia in 2016.
S-400 Triumf (NATO reporting name SA-21 Growler) is Russia's most advanced surface-to-air missile system that has a range of 400 kilometers (248 miles) and is capable of tracking and destroying all existing aerial targets, including ballistic and cruise missiles.
Never miss a story again — sign up to our Telegram channel and we'll keep you up to speed!