WASHINGTON (Sputnik) — President-elect Donald Trump has returned to some of his campaign rhetoric by issuing a Twitter message on Friday in which he called his former rival, Democratic presidential nominee Hillary Clinton, as being "guilty as hell."
What are Hillary Clinton's people complaining about with respect to the F.B.I. Based on the information they had she should never…..

— Donald J. Trump (@realDonaldTrump) 13 января 2017 г.
have been allowed to run — guilty as hell. They were VERY nice to her. She lost because she campaigned in the wrong states — no enthusiasm!

— Donald J. Trump (@realDonaldTrump) 13 января 2017 г.
Trump's comment comes after Justice Department Inspector General Michael Horowitz said on Thursday his office was opening an investigation into the actions of the FBI prior to the 2016 US election.
Horowitz said the investigation would examine FBI Director James Comey's decision to disclose the Bureau would not recommend criminal charges against Clinton in the criminal probe of whether she intended to break US laws by utilizing a private email server during her tenure as US secretary of state from 2009 to 2013.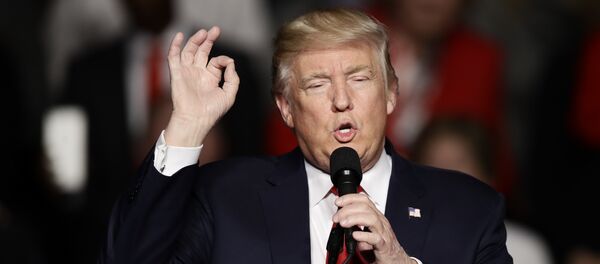 11 January 2017, 09:04 GMT
Comey reopened the investigation just days before the November 8 election based on discovering new evidence on a laptop belonging to Clinton top aide's husband Anthony Weiner.
Horowitz also said his office will investigate whether an FBI deputy director, whose wife received financial support in her state election from a Clinton ally, and the Justice Department's assistant attorney general, who was close to Clinton campaign chair John Podesta, should have recused themselves from the investigation.
Never miss a story again — sign up to our Telegram channel and we'll keep you up to speed!