On Thursday, a Ukrtransgaz press statement confirmed that Ukraine has already received nearly four million cubic meters' worth of gas from Engie since the beginning of the year. Engie earlier calculated that it has the capacity to pump about 0.4 million cubic meters of gas into Ukraine through the Hermanowice pipeline in southeast Poland on a daily basis.
Engie signed a deal with their Ukrainian counterparts in October on the transfer and storage of gas in Ukraine's underground storage facilities, allowing the French company to supply Ukrainian customers directly.
© AP Photo / Pavlo Palamarchuk
Ukrainian gas pumping station at Volovets in western Ukraine (File)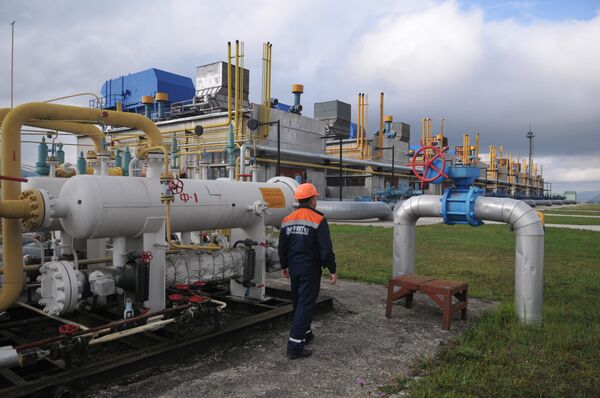 Ukrainian gas pumping station at Volovets in western Ukraine (File)
© AP Photo / Pavlo Palamarchuk
Last month, the Ukrainian Ministry of Economic Development and Trade calculated that Kiev paid an average of 6,006 hryvnia ($230 US) per thousand cubic meters of gas from European suppliers in December.
Earlier, Gazprom had offered Ukraine a discounted price of $186 per thousand cubic meters, nearly 20% less than the average rate the country now pays European companies. In addition to the higher prices charged by the Europeans, Kiev also pays a substantial markup for Russian supplies which are sent to Europe, and then pumped back into Ukraine by third party suppliers at inflated prices.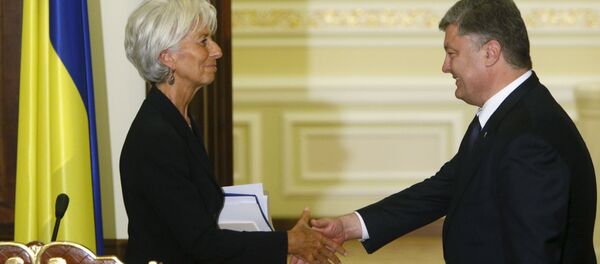 12 January 2017, 10:32 GMT
The International Monetary Fund recently said that pensioners in Ukraine receive an average pension of about
$74 a month
. Meanwhile, economists have
calculated
that the average utilities bill for a one room apartment has risen to about $40 in the summer and $110 in the winter, making it very difficult for many people to pay their bills.
Earlier this week, the German daily newspaper Die Tageszeitung wrote that an unexpectedly cold winter has also left Kiev worried that the country's gas reserves could run out before the end of the heating season. Last week, Ukraine increased its gas consumption to 100 million cubic meters per day, which is double the normal seasonal volume.
The paper warned that shortages in Ukraine may result in a repetition of the 2009 gas conflict between Russia and Ukraine, when Ukraine siphoned Russian gas supplies meant for Europe, resulting in shortfalls in supply for Gazprom's European customers.
Die Tageszeitung explained that while Kiev still has adequate stocks of about 11 billion cubic meters of gas, its gas network transit requires a minimum of about 4 billion cubic meters to maintain adequate pressure. If the cold continues, Kiev's reserves could run out in just over two months, and it may again be tempted to dip into Russian supplies bound for Europe.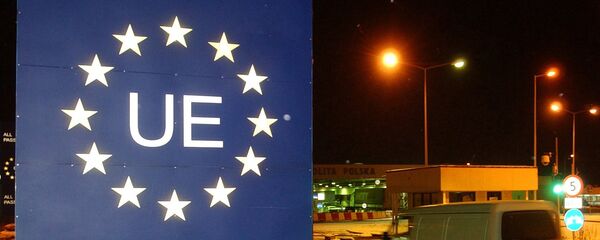 23 December 2016, 15:33 GMT
Ukrainian national energy company Naftogaz has already received loans amounting to over $800 million from Deutsche Bank and Citi Bank, allowing it to buy additional gas from the EU in case of an emergency.
Russian gas transit is a lucrative business for Kiev, bringing about $2 billion into state coffers every year. However, Naftogaz recently warned that the implementation of Russia's Nord Stream 2 and the Turkish Stream projects would eliminate its status as a transit country. Last week, Ukrainian opposition politician Viktor Medvedchuk stressed that loss of this status would turn the country into a "logistical backwater." Ukraine's current contract with Gazprom ends in 2019.
Die Tageszeitung recalled that Ukraine had made ambitious plans to cut its energy requirements via renewable energy and energy efficiency programs amid the crisis in relations with Russia. However, the paper lamented that Kiev's ambitions have been half-hearted. For example, in December, lawmakers from Kiev's City Council admitted that most of the budget for the new technologies had been spent on seminars and projects that never went anywhere. Meanwhile, the small town of Slavuta in western Ukraine has managed to cut its gas consumption in half over three years, but that can be attributed in part to residents simply turning off the gas and turning to wood heating stoves instead.