Ahead of the march in the nation's capital, the line to enter the "Here to Stay" rally at the historically-black Metropolitan AME Church stretched nearly a block, AP reports. Among the elected officials, clergy and labor representatives in attendance were immigrants, including undocumented immigrants who fear what a Trump administration will mean for their lives.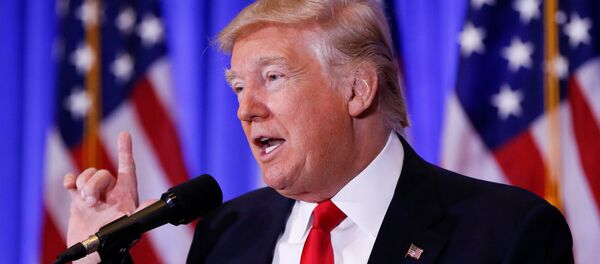 13 January 2017, 15:04 GMT
Signs with messages like, "Resist Trump's Hate" and "Tu, Yo, Todos Somos America," ("You, me, we all are America") were visible in the crowd.
"We are not going to allow Donald Trump to bury the Statue of Liberty," Maryland Democratic Senator Chris Van Hollen told the gathering. "We are a nation for all people, regardless of religion, regardless of background, regardless of who you love."
Trump's inflammatory comments about women and immigrants have sparked anger and fear among his opponents across the country, and promises to repeal the Affordable Care Act (known as Obamacare) and other government programs have many worried. Al Jazeera reports that some 30 groups, almost all anti-Trump, have gotten permits to protest before, during and after the inauguration. Events are expected throughout the week supporting women's rights, healthcare, public education, racial equality and other issues Trump's opponents challenge him on.
The National Korean American Service & Education Commission took part in the rally at the Metropolitan AME Church.
"We deserve the respect and the right to live in this country. It will be a symbolic day for the immigrant community but also for this country," Dae Joong Yoon, NAKASEC executive director, told NBC News.
About 2,000 protesters came out despite rain and cold temperatures to follow the Reverend Al Sharpton in a march along the National Mall toward the Martin Luther King Junior Memorial in Washington, DC.
Sharpton led marchers in calls for "justice." He also had a message not only for Trump, but for all Congressional leaders.
"We come not to appeal to Donald Trump, because he's made it clear what his policies are and what his nominations are. We've come to say to the Democrats in the Senate and in the House and to the moderate Republicans to get some backbone, to get some guts. We didn't send you down here to be weak-kneed and get in the room and try to make friends. We sent you down here to stand up for senior citizens, to stand up for students who can't pay their loans, to stand up for victims of police abuse," Sharpton told the crowd.
"We want the world to see, if you sell us out, we're going to let everybody know who you are."
Sharpton also asserted that criminal justice and police reform must go forward, not stall under the new administration. The treatment of black men by US police has come under increased public scrutiny in the past two years. 
The National Association for the Advancement of Colored People, the National Council of La Raza and many Democratic politicians had all said they would take part in the march.
"The threat of deportation is imminent for our communities," Cristina Jimenez, executive director of United We Dream and one of the rally's organizers, said at the event, according to AP. "We will keep fighting. We're not going back into the shadows."
In Chicago, gatherings also focused on immigrant rights. Addressing a crowd of more than 1,000, Michael Takada of the Japanese American Service Committee told the audience to "disrupt the deportation machine" that there are widespread fears Trump will launch. He also told the audience to watch their local police departments to make sure they don't help US immigration services "to deport our community members," AP reported.
Several hundred people took part in a rally in Los Angeles on behalf of immigrants. The crowd at the downtown Mexican-American cultural center carried signs saying "Here to Stay."
Jorge-Mario Cabrera, spokesman for the Coalition for Humane Immigrant Rights of Los Angeles, said the group wants to let the Trump administration know "that we're not going to sit idly by while he destroys our community."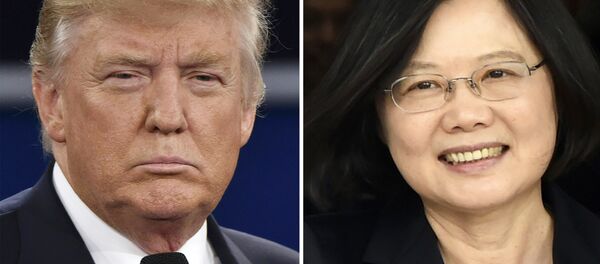 14 January 2017, 04:53 GMT
"The community right now is in shock and we don't know what exactly the new administration will do in terms of its immigration policy," he said, NBC reported. "This is the first of what will be many messages in support of immigrants [and in support of] anti-phobia, anti-immigrant sentiment."
US President Barack Obama began an executive effort to protect some young immigrants from deportation, the Deferred Action for Childhood Arrivals DACA), in 2012. The program was expanded, but elements of it have ended up in court, and its fate is uncertain under Trump.
Obama is assessed as having deported 2.5 million people over his two terms, more than any other president.